Cafe Borrone

Cafe Borrone, Jeremy Sutton, 2017, 12″ x 18″, dye sublimation on aluminum
This painting was created, using an iPad Pro, Apple Pencil and Procreate app, from direct observation while sitting in the outside area at Cafe Borrone in Menlo Park. I had just seen Walter Isaacson talk about his new book on Leonardo da Vinci. It was Isaacson's magnificent book, "The Innovators", that I was reading at the time, that provided many background stories to the Iconic Places of Silicon Valley series of plein air ipad paintings for a group show, iPad Art: Places – 3 Brits in Silicon Valley , in the Art Ventures Gallery in Menlo Park (not far from Cafe Borrone). See below for the list of places included in the series:
While not an official part of the series, Cafe Borrone serves today as a vibrant meeting point for many technologists, venture capitalists and entrepreneurs, producing the dynamic mix that makes Silicon Valley a crucible for innovation and ideas. It is also one of my favorite cafes in the area (after the closing of my all time favorite, Cafe Verona in Palo Alto).
This artwork will be silent auctioned in support of "Art in Action", supports arts education in local schools, at the opening reception of the show.
This video shows how the artwork evolved brush stroke by brush stroke.
Here are the places featured, as part of the series, Iconic Places of Silicon Valley, that will be included in this exhibition, listed in the order the companies were founded (founding year noted in parenthesis), starting with the oldest:

The Hewlett Packard Garage, Palo Alto (1939)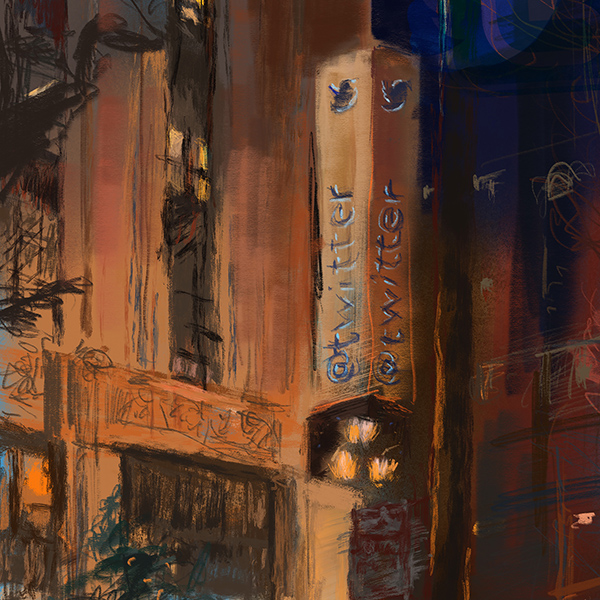 SRI International, Menlo Park (1946)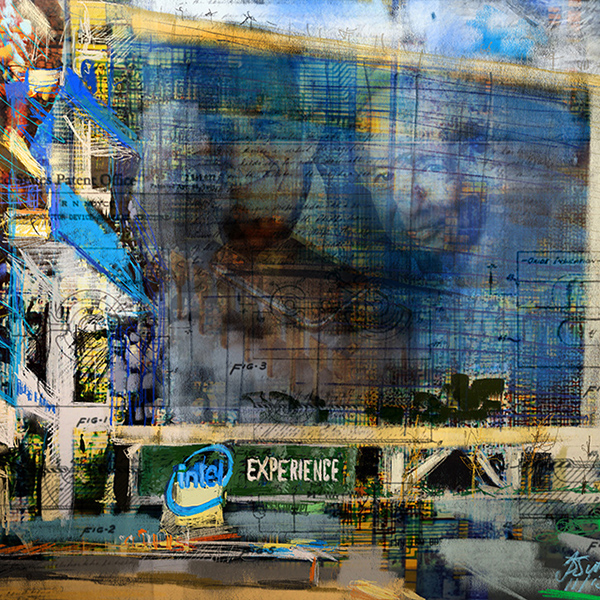 Intel, Santa Clara (1968)

Xerox PARC, Palo Alto (1970)

Apple Park, "The Spaceship", Cupertino (1976)

Google Bikes, "Googleplex", Mountain View (1998)

Facebook Thumbs Up Sign, Menlo Park (2004)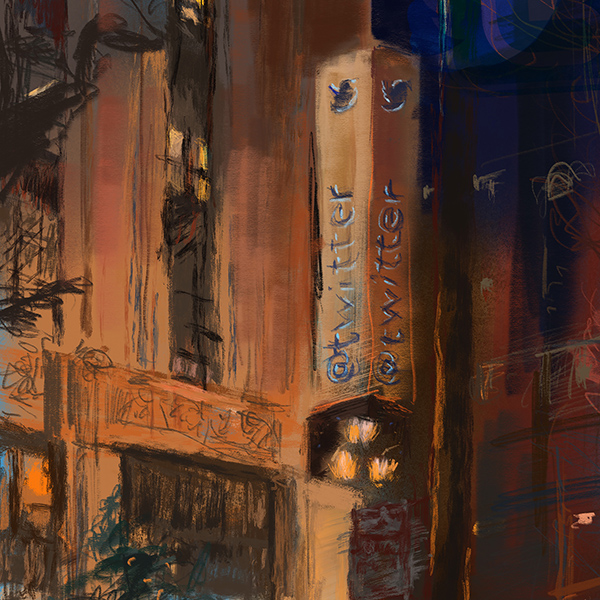 Twitter, San Francisco (2006)