Intel, 2017
30″ x 24″, dye sublimation on aluminium

This painting was created, using an iPad Pro, Apple Pencil and Procreate app, from direct observation of the headquarters of Intel in Santa Clara, CA (the Robert N. Noyce Building in which there is an excellent Intel Museum well worth visiting). Intel was co-founded in 1968 by Gordon L. Moore of "Moore's Law" fame, and Robert N. Noyce, co-inventor of the integrated circuit (I.C.), two of the Shockley "Traitorous Eight" who left Shockley Semiconductor Laboratory in 1957 to found Fairchild Semiconductor (thus making Intel one of the "Fairchildren" spin-off companies spawned from Fairchild employees). They were joined from day one by fellow Fairchild alumnus Andy Grove, and went onto create the first commercially available microprocessor (Intel 4004, an photo of which is included in this painting) in 1971 and one of the first microcomputers in 1972. Moore, Noyce and Groves are all represented in this painting.
The Intel story is part of the reason Silicon Valley has silicon in the name! As a nod to the vital role of silicon in their product, Intel have sandpits with games in front of their headquarters (which you can see at the bottom of this painting), sand being made largely of silicon dioxide, and sandpits representing the prototyping, testing and bootstrapping of innovative technology. As I sat and drew this artwork visiting groups on Silicon Valley tours would come and literally play in the sand (as well as take selfies in front of the Intel sign).
This video shows all the elements that went into the background that relate to the history of Intel, and the time-lapse replay of the artwork evolving brush stroke by brush stroke.
On a personal note, much of my own journey into digital painting, starting in 1991 on an Apple Macintosh IIfx computer, has been using devices with Intel chips inside.
This painting is part of my Iconic Places of Silicon Valley series of plein air iPad paintings:

The Hewlett Packard Garage, Palo Alto (1939)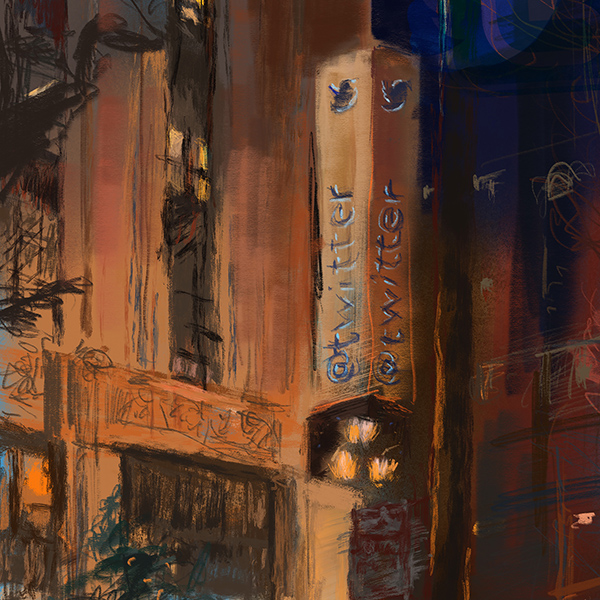 SRI International, Menlo Park (1946)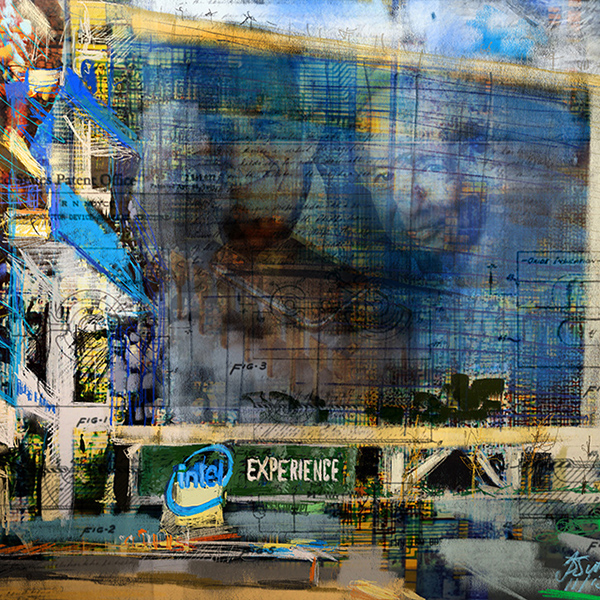 Intel, Santa Clara (1968)

Xerox PARC, Palo Alto (1970)

Apple Park, "The Spaceship", Cupertino (1976)

Google Bikes, "Googleplex", Mountain View (1998)

Facebook Thumbs Up Sign, Menlo Park (2004)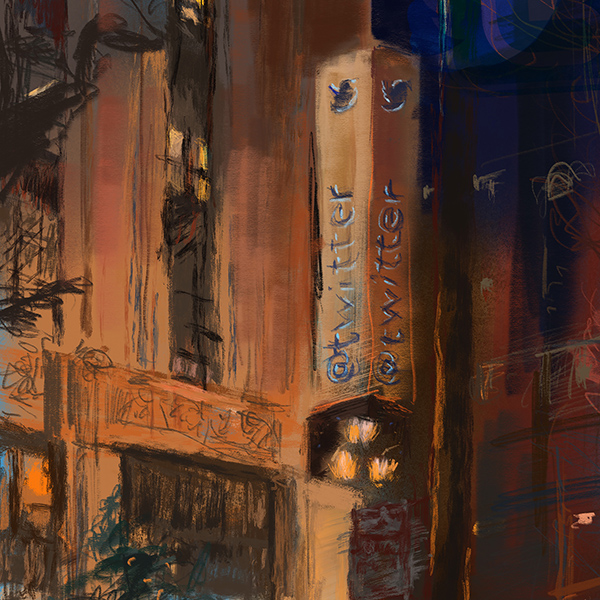 Twitter, San Francisco (2006)