Google Bikes, 2017
20″ x 20″, dye sublimation on aluminum

This painting was created, using an iPad Pro, Apple Pencil and Procreate app, from direct observation of a group of colorful Google bikes parked outside building 42 of the main Google Mountain View campus, known as the Googleplex. As I painted this, Googlers were continually dropping off, and cycling away on, the bikes, thus making for an interesting ever-changing scene!
The site where this artwork was painted was once the headquarters of Silicon Graphics (SGI). When I lived in Palo Alto in the late 1980s / early 1990s I remember visiting SGI computer graphics programmer Paul Haeberli and drawing a digital portrait of him in his office using a new prototype graphics engine he was working on.
Google was co-founded by Sergey Brin and Larry Page in 1998 in Menlo Park, coming out of their research at Stanford University into a way to use machine intelligence (complex algorithms) to produce a faster and more relevant search result and ranking of web pages on the then relatively-new world wide web. Brin and Page continued two traditions rooted in the history of Silicon Valley (kicked off by Hewlett and Packard in 1939): they came out of Stanford University, and they started working out of a garage. As Wikipedia explains, "Google's co-founders rented a garage, along with three rooms inside the house, from Susan Wojcicki while they were still living in the dorms at Stanford, less than two miles away. The duo spent the winter of 1998 building the tech company that would change search and the Internet forever. Google now owns the house." From that modest beginning, Google.com became the world's most visited web site. I used to live in downtown Palo Alto in the '90s and recall when Google opened one of their first offices there on University Avenue.
Recently, when my 17 year old nephew visited from Brighton, UK, his top request was to visit Google!

This painting is part of my Iconic Places of Silicon Valley series of plein air iPad paintings:

The Hewlett Packard Garage, Palo Alto (1939)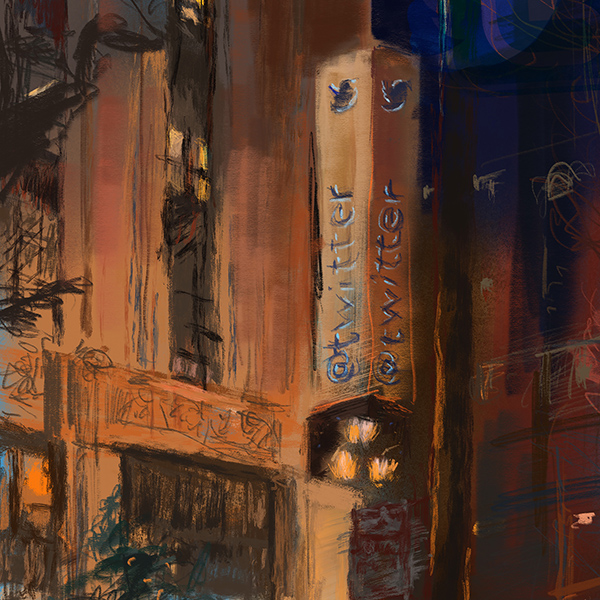 SRI International, Menlo Park (1946)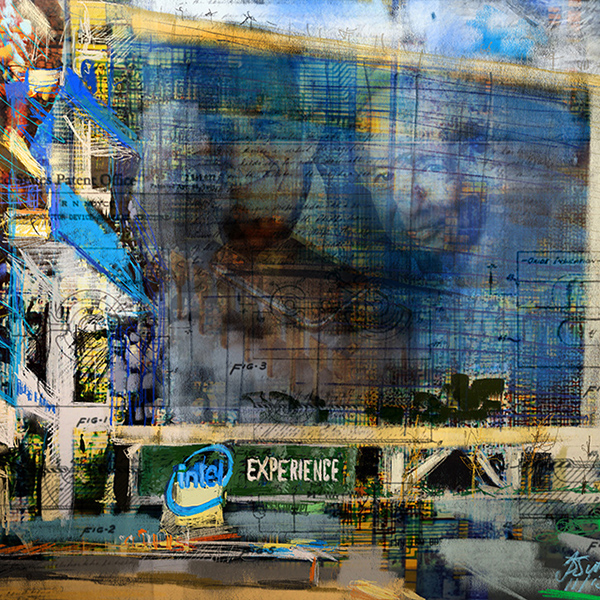 Intel, Santa Clara (1968)

Xerox PARC, Palo Alto (1970)

Apple Park, "The Spaceship", Cupertino (1976)

Google Bikes, "Googleplex", Mountain View (1998)

Facebook Thumbs Up Sign, Menlo Park (2004)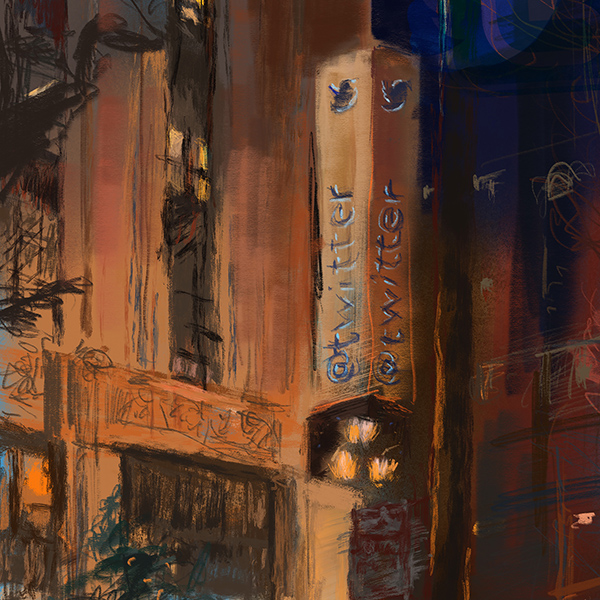 Twitter, San Francisco (2006)