Twitter, 2017
16″ x 30″, dye sublimation on aluminum

This painting was created, using an iPad Pro, Apple Pencil and Procreate app, from direct observation of the headquarters of Twitter in San Francisco. Twitter, founded in 2006, became a crucial communication medium of the smallsmartscreen-age thumb-generation era, playing critical roles in revolutions, uprisings, wars, news and politics, besides being part of the fabric of day-to-day social media. It is the embodiment of the transition from the roots of Silicon Valley being in the development of hardware and physical products (made with silicon…) to the ascent of software and coding, and the enabling of interaction through other companies' devices.
The numbers are astounding. According to Wikipedia "in 2012, the service handled an average of 1.6 billion search queries per day, and in 2016, had more than 319 million monthly active users."
Spearheading the efforts to improve the Mid-Market area of San Francisco, Twitter's move in 2012 to relocate their headquarters into a magnificent 1937 Art Deco building on Market Street, former home of the Western Furniture Exchange and Merchandise Mart, was a crucial step in the invigoration of the area. Twitter helped stretch the northern tip of "Silicon Valley" all the way up the valley to the City by the Bay, San Francisco.

This shows me drawing the Twitter building on a rainy evening, from the shelter of the Starbucks across the road!
This video shows how the artwork evolved brush stroke by brush stroke.
This painting is part of my Iconic Places of Silicon Valley series of plein air iPad paintings:

The Hewlett Packard Garage, Palo Alto (1939)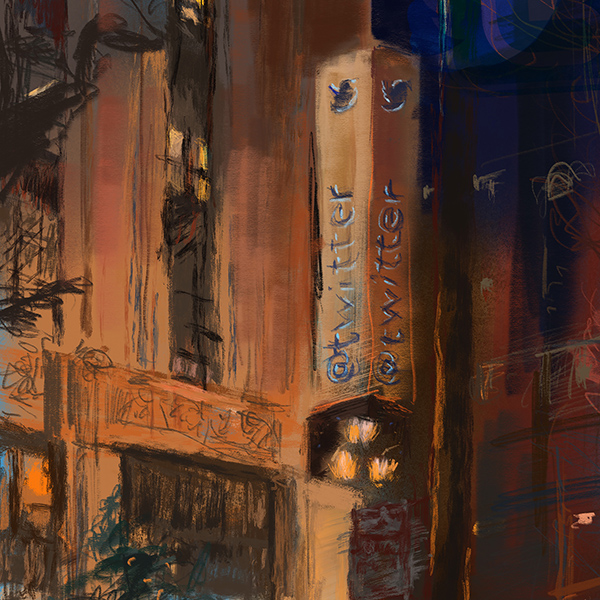 SRI International, Menlo Park (1946)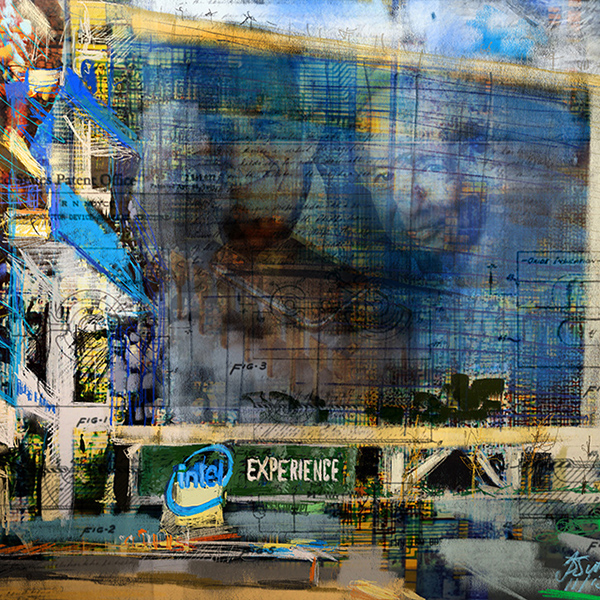 Intel, Santa Clara (1968)

Xerox PARC, Palo Alto (1970)

Apple Park, "The Spaceship", Cupertino (1976)

Google Bikes, "Googleplex", Mountain View (1998)

Facebook Thumbs Up Sign, Menlo Park (2004)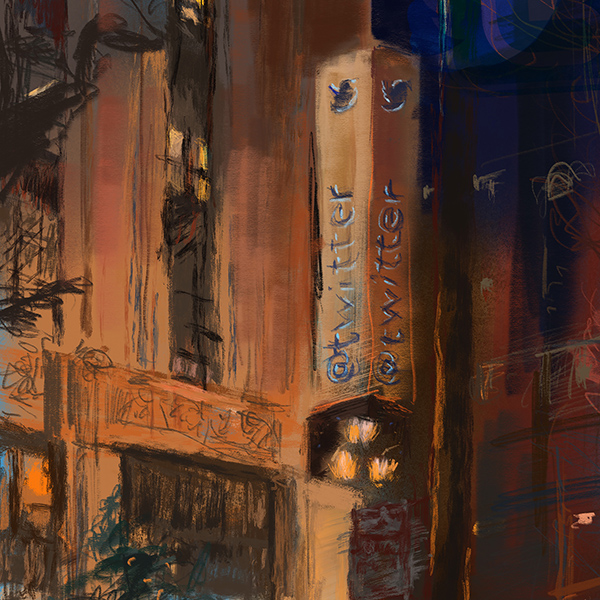 Twitter, San Francisco (2006)