This painting was created, using an iPad Pro, Apple Pencil and Procreate app, from direct observation of Apple Park (a.k.a. "The Spaceship"), the new corporate headquarters of Apple in Cupertino.
Within this painting are many subtle layers of imagery, including the original Apple Computer partnership agreement (signed on April Fools Day, April 1st, 1976); the original one page Apple Marketing Philosophy typed out by investor and second Apple CEO Mark Markkula; the historic photo of Apple co-founders Steve Wozniak and Steve Jobs working in Steve's garage; the layout sketch of one of their first office plans; and the circuit board diagram of one of their first personal computers, the Apple I; and Steve Jobs' slide of the intersection of the Technology and Liberal Arts signs. It was the great combination of Steve Wozniak's technical genius and Steve Jobs' futuristic vision that allowed them to realize the dream of a computer on every desk and then go far beyond that dream, more than delivering on their "promise of a synergistic increase in individual efficiency", as explained in the 1981 Inc. Magazine feature article on Steve Jobs.
Besides creating this artwork using Apple products, Apple has played a crucial role in my journey as a digital painter, starting in 1991 with my first personal computer, the Macintosh IIfx, which I bought specifically to explore digital paint.

Apple Park, 2017
60″ x 32″, acrylic and pigment ink on canvas

Recently, at an author talk in Kepler's Bookstore, Menlo Park, I heard Walter Isaacson explain how artist, inventor, scientist, architect and all-round Renaissance man, Leonardo da Vinci, continually drew from (and contributed to) all fields of learning. Da Vinci's cross-disciplinary approach reminded Isaacson of Steve Jobs standing in front of his slide of the two intersecting street signs, "Technology" and "Liberal Arts", explaining: "Technology alone is not enough. It is Technology married with Liberal Arts, married with the Humanities, that yields us the result that makes our heart sing." Isaacson also pointed out how important the flow of water was for da Vinci, connecting with the flow of blood in our veins and the ripples of time through space, sounding very much like Jobs' description of the role he saw for post-PC devices in our lives "where the software and hardware and applications intertwine in an even more seamless way."
We're living in an exciting era where, with amazing digital paint tools at our fingertips, such as the iPad pro and Apple Pencil I used for this painting, we can experience creative flow that will, as Jobs put it, "make your heart sing". It's that flow, the seamless symbiosis of art process and tech tools, that is at the core of what I do and what I teach, and is what I appreciate about the way the two Steves, and Apple, have transformed our lives.
This painting is part of my Iconic Places of Silicon Valley series of plein air iPad paintings:

The Hewlett Packard Garage, Palo Alto (1939)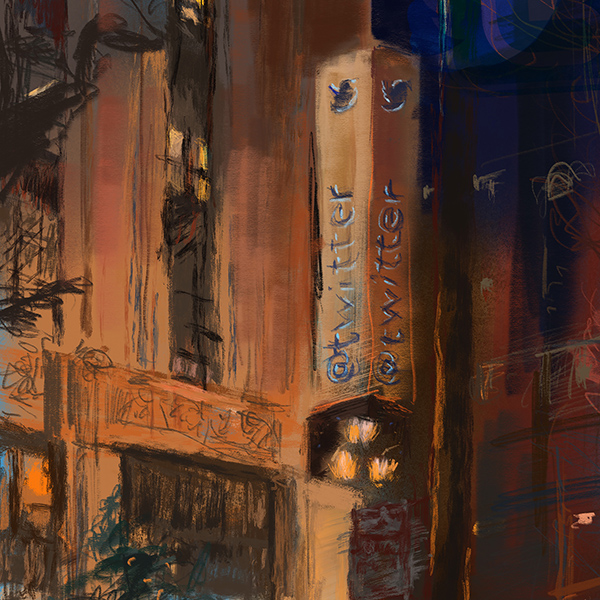 SRI International, Menlo Park (1946)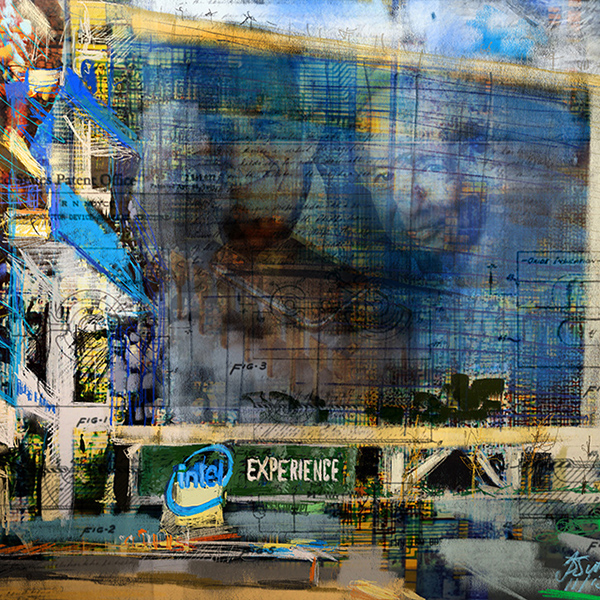 Intel, Santa Clara (1968)

Xerox PARC, Palo Alto (1970)

Apple Park, "The Spaceship", Cupertino (1976)

Google Bikes, "Googleplex", Mountain View (1998)

Facebook Thumbs Up Sign, Menlo Park (2004)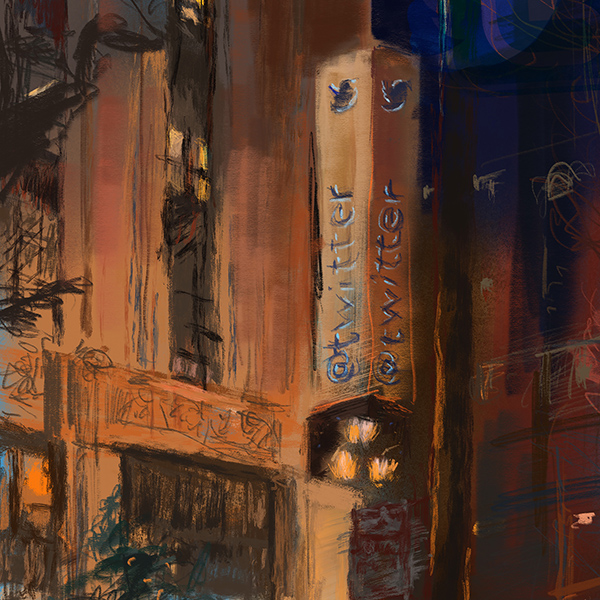 Twitter, San Francisco (2006)