The Garage, 2017
20″ x 40″, dye sublimation on aluminum

The painting being viewed with AR in my studio. Please note that this image is now AR enabled using the Artivive app (HP Reveal no longer exists). See my AR page for more info.


This painting was created, using an iPad Pro, Apple Pencil and Procreate app, from direct observation of the historic garage in Palo Alto where Bill Hewlett and Dave Packard worked side by side in 1938 to produce their first product, an audio oscillator. The business they founded together, Hewlett Packard, was one of the early tech companies in what later became known as "Silicon Valley". In that sense this garage represents the birth of Silicon Valley, though, as Bill Hewlett modestly pointed out: "We weren't the first (in the Valley), and we didn't use silicon (in their early products)".
In 1989 this garage was listed in the National Register of Historic Places and the plaque that now stands in the front garden of the property reads:
BIRTHPLACE OF "SILICON VALLEY"
This garage is the birthplace of the world's first high-technology region, "Silicon valley". The idea for such a region originated with Dr. Frederick Terman, a Stanford University Professor who encouraged his students to start up their own electronics companies in the area instead of joining established firms in the east. The first two students to follow his advice were William R. Hewlett and David Packard, who, in 1938, began developing their first product, an audio oscillator, in this garage.
If you watch the time-lapse stroke-by-stroke replay in this video you'll notice how I initially paint the garage doors closed and then open. As I was sitting drawing the door were opened for a visiting tour and I just kept painting what I saw!
Within this painting are many subtle layers of imagery, including photos of the original audio oscillator prototype, an advertisement for that first product, an old map of Palo Alto, the National Register plaque, and an article in the San Jose Mercury News from 1989 reporting on the celebration of the garage being listed as an historic structure. The music I chose for this video, "Begin the Beguine" by Artie Shaw and his Orchestra, was written and performed in 1938, the same year Bill and Dave were working away in this garage, and may well have been playing on their radio as they tinckered on that oscillator!!

This painting is part of my Iconic Places of Silicon Valley series of plein air iPad paintings:

The Hewlett Packard Garage, Palo Alto (1939)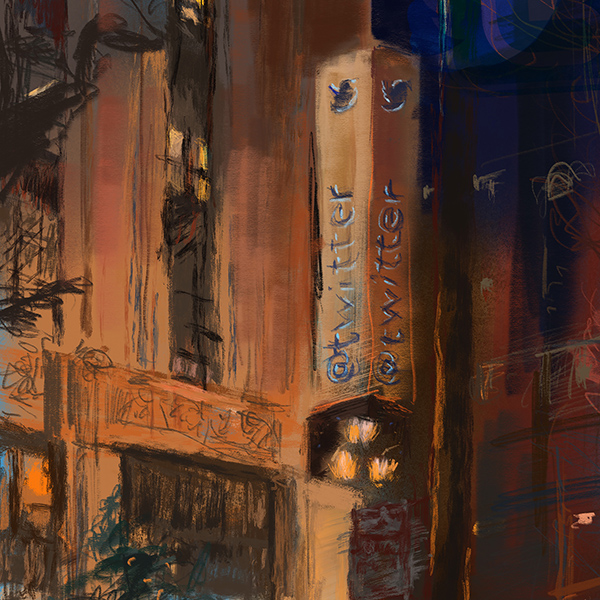 SRI International, Menlo Park (1946)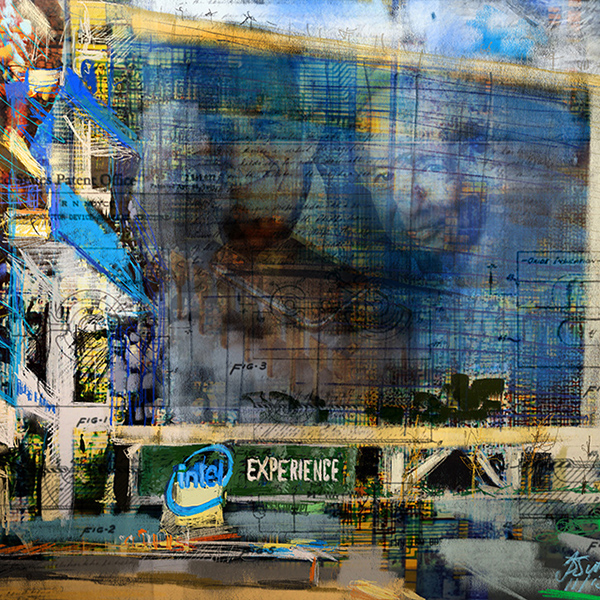 Intel, Santa Clara (1968)

Xerox PARC, Palo Alto (1970)

Apple Park, "The Spaceship", Cupertino (1976)

Google Bikes, "Googleplex", Mountain View (1998)

Facebook Thumbs Up Sign, Menlo Park (2004)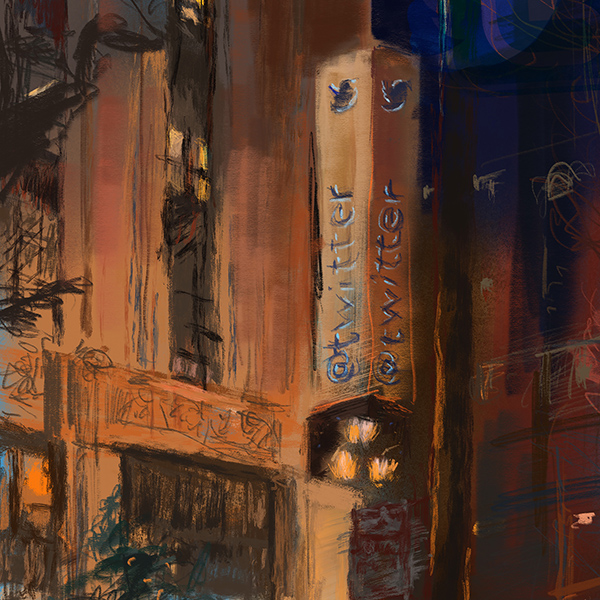 Twitter, San Francisco (2006)