Interactive Engagement for Events
Creative Entertainment Experiences
Inaugural Launching and Christening of the Regent Seven Seas Cruises' newest luxury cruise liner Seven Seas Splendor in Miami, Florida.
Drawing of a 20th Wedding Anniversary Celebration, created from life (socially distanced) using an iPadPro, Apple Pencil and Procreate app. This image is AR extended using the Artivive app.
The Augmenting Cities: A Playful Path to Community symposium opening reception hosted by Niantic and the Knight Foundation at the Oakland Museum of California.
Company Summit Welcome Party at a restaurant in Texas LIVE!, Arlington, Texas.
A corporate dinner in the Trou Normand restaurant in San Francisco.
The City of Palo Alto Tree Lighting. My iPad screen was displayed on a large 80″ LED screen that everyone could enjoy watching. Several onlookers commented that this was one of the coolest things they'd seen!
An artistic interpretation of the scene I saw unfold before me at a corporate reception in Washington, D.C., integrating the DC skyline and company brand colors.
A Havana Night themed opening party in the Boca Raton Resort & Club, Florida.
Holiday Party in the magnificent and historic San Francisco City Hall Rotunda. This took approximately three hours and was created using iPad Pro, Apple Pencil and Procreate app. My iPad screen image was displayed on a 46″ LED screen. Guests were fascinated to see the painting unfold and many came up to compliment me on the emerging artwork and ask about my process and tools.
It was such a pleasure working with you and I look forward to working with you again in the future.
~ Kiki W. Painting the night at a company conference welcome party in Las Vegas, Nevada.
Painting the Night at a corporate event in Las Vegas. Here you see me painting on my iPad Pro at a corporate conference party as an Elvis impersonator is performing on stage, with my painting projected live on three 40′ wide by 20′ high screens above the stage.
Everything was absolutely amazing, you were such an amazing part of our success.
~ Alana C.
Painting the scene on the iPad, accompanied by live music, at a community arts festival.
Live event painting at the Grand Opening of the AT&T One Powell flagship store in San Francisco. This painting was created over the course of an entire afternoon.
Live painting at Caroline and Mark's wedding reception on the San Francisco Bay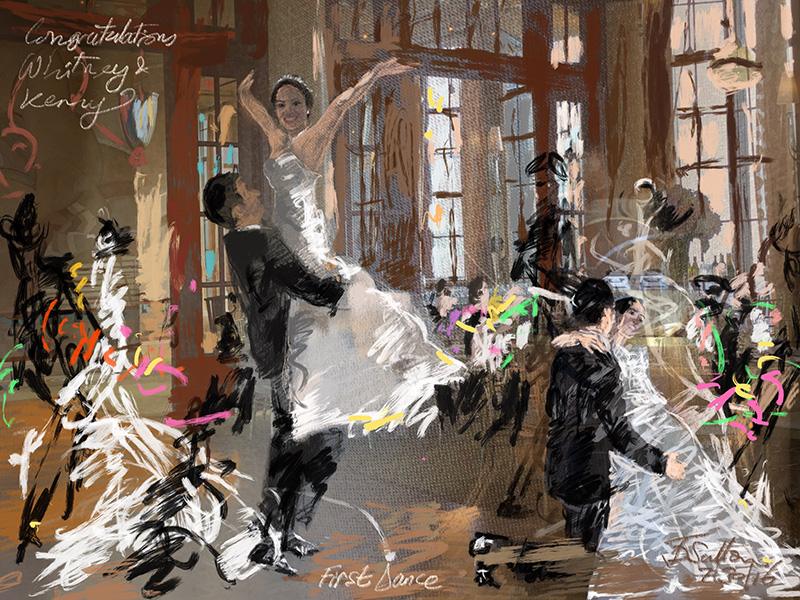 Whitney and Kenny's First Dance, Westin St. Francisco Hotel, San Francisco
This was created live as they danced their first dance using iPad Pro, Apple Pencil and Procreate.
A flavor of my LIVE PAINTING performance on August 23rd, 2016, at the The Tommy Igoe Groove Conspiracy's Jazz, Art and Prince concert in Yoshi's Jazz Club, Jack London Square, Oakland, California.
Live iPad painting replay video of the art created at "America Now! Innovation in Art"
"Jeremy was a terrific addition to a large event we hosted last summer. He did a digital painting for audiences but really took the time to speak with people watching and show them his process. He was very engaged with the crowd and the other artists we had participating in the event. He was flexible with our requests and very easy to work with–accommodating, creative, and dynamic. Jeremy was a wonderful addition to our event!" ~ Katy C., Smithsonian American Art Museum, Washington D.C.
I can paint an event scene live and work on my digital canvas continuously throughout the event as guests and attendees see the painting unfold, transform and develop. At the conclusion of the event the client can have a digital file of the final artwork, plus a replay movie of the process, all of which they can share with attendees and use on their web site et cetera. I can also print out in my studio a beautiful fine art pigment print on canvas of the final artwork for the client to hang on the wall. I am flexible with the tools and technology I use.
Live painting outdoors on 100′ wide array of video screens at the
Scotiabank Nuit Blanche 2014, Toronto, Canada
"I worked with Jeremy for Toronto's Scotiabank Nuit Blanche, we flew him to create digital artwork that was displayed on a 100 foot LED wall. He created amazing pieces of art of Toronto and landmarks. He is amazing to work with, so gracious and accommodating. I will definitely call upon Jeremy again if I need a digital artist."
~ Mary P., MPossible Events
Comment by visitor to Nuit Blanche:
"Between the Earth and the Sky was the theme of the (Nuit Blanche) night and you fulfilled the mandate perfectly! It was a wonderful example of the meeting of the earth, up to date technology, and the heavens, the inspiration for fine art. It was a delight to see the classical art of fine drawing and it's contemporary digital application. It was also one of the most successful installations of the whole event in my opinion. You lit the night sky with those fabulous, bright screens in an avenue of radiant colours. Congratulations."
~ Julian M.
…and traditional media too!
Acrylic on canvas (non-digital) live painting performance depicting the beautiful sunset view from the tasting room terrace of the Davis Estates winery in Calistoga, Napa Valley, California, at a wine club members dinner event.

Two paintings in traditional media painted live at another event, also at the Davis Estates, Calistoga, Napa Valley..
Live Event Digital Painting
by Jeremy Sutton