LIVE PAINTING at Yoshi's
Jazz, Art & Prince
(4m 23s)
LIVE PAINTING PERFORMANCES WITH THE TOMMY IGOE JAZZ CONSPIRACY AT YOSHI'S, OAKLAND, ON 8/23/16 & 12/20/16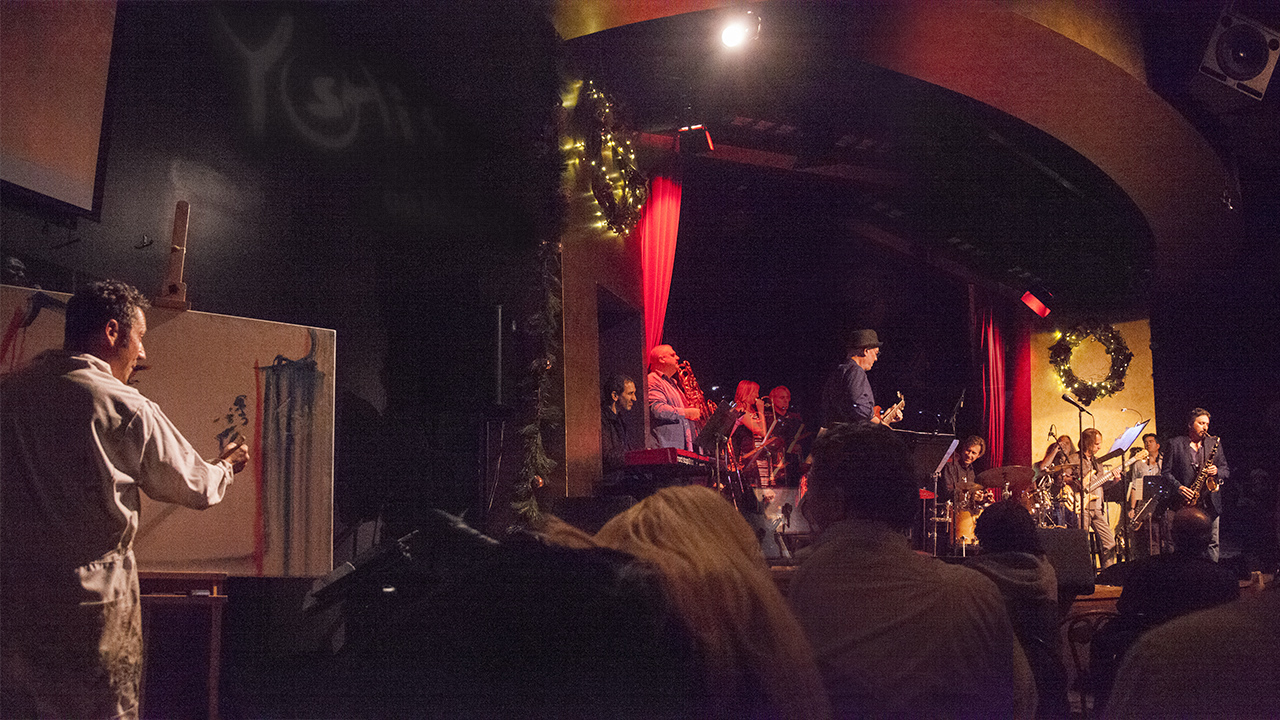 Sonic zoo / visual zoo!! ~ Tommy Igoe


Wow!! What amazing evenings! Both Jazz, Art and Prince performances were unique combined sonic/visual experiences! I worked on glass, paper and canvas with pixels, pastels and paint — drawing and painting live to Tommy's music – the first-of-it's-kind mixing live iPad painting with live drawing on paper and live painting on canvas, all inspired by, and painted to, live music in concert. A silent auction of the artwork created during each performance immediately followed the shows (while paint was still wet!!) On December 20th, 2016, special guest Tony Lindsay joined in on vocals. The joint was rockin'! Thanks to everyone who came along.
Click here for the web page version of the 12/20/16 show Press Release.
Click here to download a PDF of the 12/20/16 show Press Release.
The video at the top of this page gives a taste of my performance on December 20th, 2016, and includes the live iPad painting replay of the digital painting. See the brush strokes unfold as I created the iPad painting alongside painting on canvas and paper with traditional media. This was a multiple-media live art performance: from canvas and paper to glass and pixels! (videography: Peggy G, stills: Laura Wuest and Peggy G)

12/20/16 show photo montage. Photos by Laura Wuest and Peggy G.
Canvas prints (approximately 9″ x 7″) of the iPad painting, shown below with and without matte, are available for $250 each (including frame and excluding tax and shipping). Please email me if you would like to purchase one.

Here (below) are some photos by Crystal Nadeau (goodbrain.com) taken during and after the 12/20/2016 show. To see more of Crystal's fabulous photos from the December 20th show click here.

This video shares clips from my LIVE PAINTING performance on August 23rd, 2016, also with the The Tommy Igoe Groove Conspiracy's in Yoshi's. Tommy premiered three new arrangements of iconic Prince songs. Here (below) are photos and artworks from the August performance:

Jazz, Art and Prince, Acrylic ink, paint and marker, and oil stick on canvas (48″ x 48″).

Replay video showing the live iPad painting that I created over the course of the evening.

The live iPad painting Saxophone – Live at Yoshi's. A 30″ x 22″ one of a kind canvas print was purchased at the event during the silent auction. 7″ x 9″ canvas prints of this iPad painting are available for $250 each (including frame, shown below, and excluding tax and shipping). Please email me if you would like to purchase one.


The Purple Rain Prince portrait, acrylic ink and marker, and oil stick on paper (22″ x 30″)

Jeanne playing trombone, acrylic ink and oil stick on paper (20″ x 26″)

Bass trombonist, oil stick, acrylic ink and charcoal on paper (22″ x 30″)


Here are some other photos from the evening:

This video show's the development of my portrait of band leader and drummer Tommy Igoe in action! It was created (prior to the event) on ‪an iPad Pro‬ ‪with an Apple Pencil‬ using apps Sketch Club‬ ‪and ArtRage. The video soundtrack is Mercy Mercy played by The Tommy Igoe Groove Conspiracy.


About Tommy Igoe
Tommy Igoe is a world-class musician living in San Francisco. He is President of Deep Rhythm Music, his recording studio, publishing arm and record label, and is one of the finest drummers in the world. He has had a long career as an in-demand studio and touring drummer, as well as an acclaimed bandleader. Born to a very musical family, his father, Sonny Igoe, had been making a name for himself as an educator and drummer since the early be-bop era, playing with guys like Benny Goodman and Woody Herman. Tommy began drumming at the age of 2, started classical piano at 10 and has gone on to craft a unique and diverse career rooted in performance and education, traveling the world with top-shelf Pop and Jazz artists as well as with his own band, while simultaneously conducting clinics and masterclasses at the world's most prestigious institutions of musical education. He is the top-selling author in his field with four #1 titles on Amazon.com. In 1997, Tommy wrote the drum set book for Disney's epic Broadway production of the "The Lion King" where he served as principal drummer and conductor. He has played drums on three Grammy award winning recordings and was voted the World's #1 Jazz Drummer in the 2014 Modern Drummer Reader's Poll. He has created two ongoing weekly musical residency at iconic Jazz clubs in New York and San Francisco. His New York band, The Birdland Big Band, is the most popular weekly music event in the city for the last 9 years. His most recent and exciting project is the Tommy Igoe Groove Conspiracy, a 15-piece supergroup from the San Francisco that has quickly become an integral part of the San Francisco cultural landscape.


About Yoshi's
Yoshi's began in 1972 as a small, North Berkeley sushi bar owned by founder and namesake, Yoshie Akiba, alongside her two best friends Kaz Kajimura, a journalist and carpenter, and Hiroyuki Hori, a painter and Japanese cook. Over the next 40 years, Yoshi's built itself into one of the world's most respected jazz venues, earning a reputation as the Bay Area's premier location for great Japanese cuisine and jazz music. Today, Yoshi's is an award-winning 310-seat live performance venue with a state-of-the-art sound system and design.


Location: Yoshi's Oakland | 510 Embarcadero West | Jack London Square | Oakland, CA 94607


Tommy and I – photo by Sarah L (8//23/2016)


Sticks and brushes – photos by Laura Wuest (12/20/2016)
Thank you, Tommy, for inviting me to be a second "zoo", the visual one inspired by your sonic one, in a very fun and creative experience!
Thank you Erin for taking the Facebook Live video, a little of which I used in the video at the top of this page. Thank you Peggy, Sarah and Simone for being an amazing assistants and Peggy, Sarah, Laura and Crystal for being such great documentors. Thank you the wonderful team at Yoshi's and thank you Kari for making it all happen.

My hands, captured after the show on 12/20/2016 by Laura Wuest