Live Painting at Augmenting Cities Symposium
I painted at the invite-only inaugural symposium, Augmenting Cities: A Playful Path to Commmunity, that was hosted by Niantic and the Knight Foundation at the Oakland Museum of California to gather and reflect on how people, cities, and technology will evolve and be shaped through augmented reality (AR).
Just as mobile communication and computing has altered the evolution of cities over the last 20 years, AR technology stands to fundamentally change how we connect and interact with each other and experience public spaces and communities for decades to come.
In painting the opening reception (above), and some of the presentations and workshop sessions (below), I mapped what I saw and, in the spirit of the symposium, playfully augmented my sketches with layers of additional imagery and information, each painting telling it's own story of the experience. The painting of the reception included artistic contributions by attendees. The paintings were displayed on a large LED screen for everyone to enjoy watching the process and the replay videos afterwards. My tools were an iPad Pro, Apple Pencil and the Procreate app.
Symposium Presentations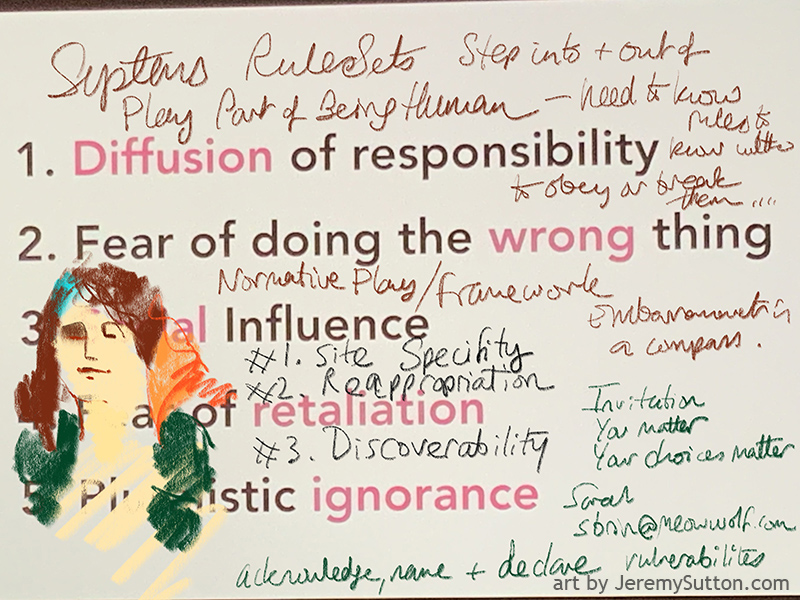 Urban Playshop Sessions
From program
Big thank you to the Niantic and Eventus Outdoors teams for putting on such a stimulating and interesting symposium and inviting me to paint live during the event.