Spring Open Studios 2018
From L to R: Myself, Drew Zingg (Birdland All-Stars' guitarist) with his son, Erin and Birdland All-Stars' bandleader and drummer, Tommy Igoe, in my studio standing in front of artwork from the tour.
On April 7th and 8th, 2018, I opened my studio for the Spring Open Studios Art Exhibition, part of the Mission Artists Sprint Open Studios. I exhibited art from three series (click on series titles for more information and examples of each series):

My latest musical artworks fresh from being created live on tour with Tommy Igoe's Birdland All-Stars.
If you'd like to see the next Art of Jazz live performance please come to the upcoming show on Saturday, July 14, 2018, 8 p.m. at Dinkelspiel Auditorium, Stanford University, Stanford, California. We will be part of the Stanford Jazz Festival 2018. Click here for more information.

Plein air iPad drawings drawn on location of places that play or have played a significant role in the history of computers and Silicon Valley; and

Apple Park, "The Spaceship", Cupertino

A selection of life drawings from the last two years.

Inky – 5 minute pose, 12″ x 16″, 2017

I was thrilled to have the pleasure of welcoming Birdland All-Stars members to my studio:

Erin, Tommy and I with the artwork Tommy purchased for his home.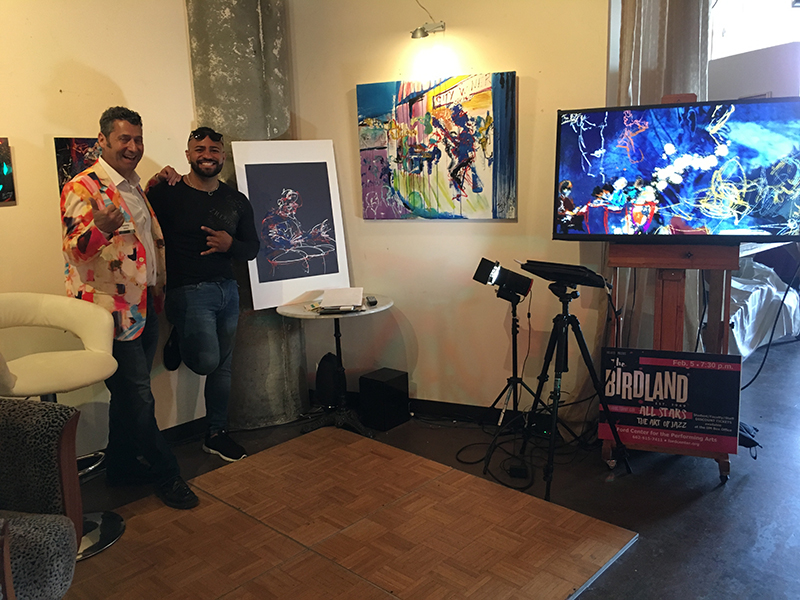 Myself and Christian Pepin (Birdland All-Stars' percussionist) next to the drawing I made of Christian as he played percussion during the tour.

Tommy, myself and Steffen Kuehn (Birdland All-Stars' trumpeter).

Laura, our wonderful Birdland All-Stars' production manager Michael Oliver and I.

Spring Open Studios coincided with my birthday this year and I couldn't resist sharing this hilarious JibJab greeting I received from my cousin Dave and his wife Shelley! It not only nailed my dance moves but even my 1950s rust colored suit!!