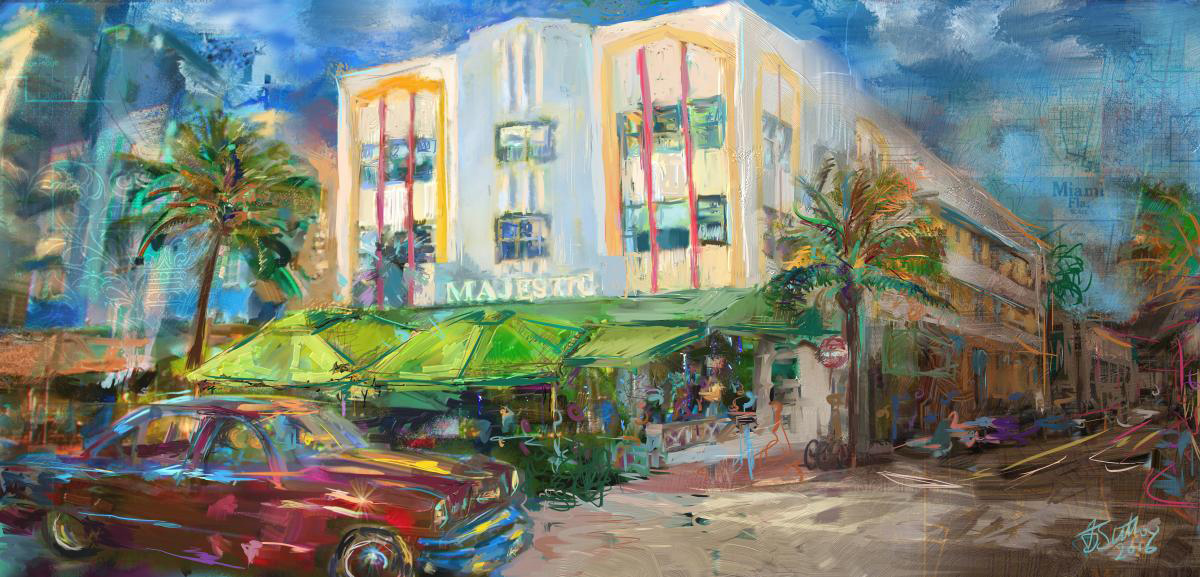 Majestic Kaiser
2015, mixed media on canvas, 50″x 24″
This painting depicts a 1951 Kaiser Deluxe outside the historic Majestic Hotel South Beach, 660 Ocean Drive, South Beach, Miami Beach, Florida. The hotel was designed by Albert Anis and completed in 1940. Amongst the magnificent Art Deco buildings of the South Beach Art Deco District, the Majestic Hotel stands out in style. As explained on the Miami Beach 411 Official Travel Site, this building "abandoned horizontal linkage and eyebrows in favor of a mimicry of the pre-deco Vienna Succession style, with recto-linear windows and arched cornices, seemingly straight out of Fritz Lang's Metropolis. Despite this digression, it maintains a style which looks decidedly Deco." This painting includes details from the beautiful art deco metallic elevator door as well as a 1919 Miami map.
The painting is based on, and inspired by, my stay at the hotel during the 2015 Art Deco Weekend on Ocean Drive. I took reference photos at different times of the day, inside and outside the hotel. I was inspired by wonderful quality of light; the shapes, colors, architecture and design details of the building; and the history, style and character of both the hotel and the car.
Thank you to Brian, owner of the Majestic Hotel, and to Michelle, Hotel Manager, and all the rest of the staff for their warmth and hospitality.
This painting is part of my Miami Beach Art Deco Series which currently comprises:
Avalon Olds
Beacon Bel-Air
Breakwater Chevy
Majestic Kaiser
Ocean Surf Caddy
Park Central Olds
November 2015