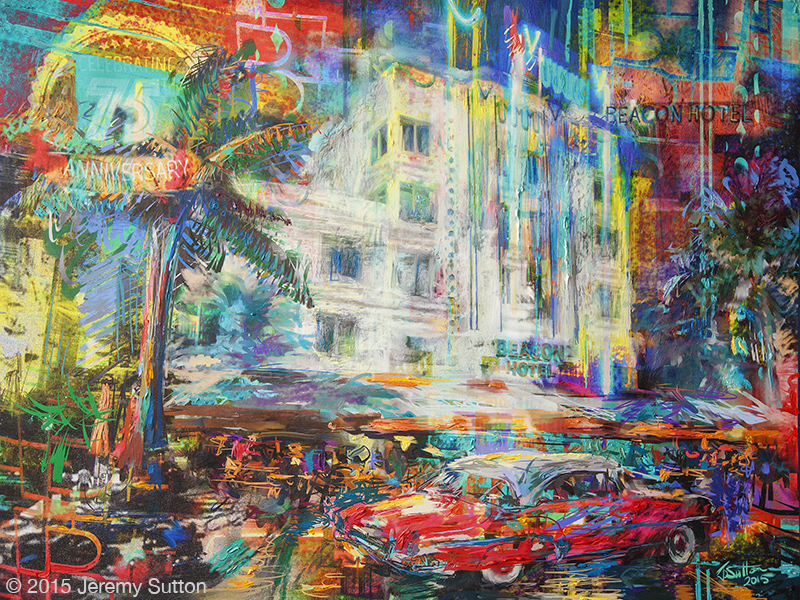 Beacon Bel-Air
2015, 40″x 30″
This painting, part of my Miami Beach Art Deco Series, depicts a classic 1952 Chevrolet DeLuxe Bel-Air outside the historic Beacon Hotel at 720 Ocean Drive in South Beach, Miami. The painting includes the graphic for the 75th anniversary celebration of the hotel. The hotel was built in 1936 in the Art Deco style, designed by architect Henry O. Nelson. In Art Deco tradition, this hotel has a tripartite facade with a vertical emphasis, with horizontal details countering the upward movement. The central bay is thrust forward in small steps and even the top rises in stair steps. The boundary between the central and side bays is filled with abstract patterns – skewed diamonds and circles. The top has semicircles and angular patterns. The countering horizontal movement is in the relief stripes in the spandrels. (Click here to learn more about the hotel's history and click here to see photos on the hotel web site.)
The painting is based on, and inspired by, my stay at the hotel during the 2015 Art Deco Weekend on Ocean Drive. I took reference photos at different times of the day, inside and outside the hotel. I was inspired by wonderful quality of light; the shapes, colors, architecture and design details of the building; and the history, style and character of both the hotel and the car. I also referenced historical documentation such as a photo (shown here) of the hotel in 1937, just a year after it opened.
The artwork is a mixed media painting (pigment ink and acrylic on canvas). The process of creating this artwork included freehand digital painting with use of Corel Painter 2015, Wacom pen tablet and Macintosh computer; UltraChrome pigment ink large format archival output on specially prepared high quality canvas; and acrylic gel and paint applied directly onto the canvas with brushes and palette knives.
Thank you to Elvis Taylor, General Manager at the Beacon Hotel, and to Veronika Volovik, Web Marketing Director, and all the rest of the staff at the Beacon Hotel for their warmth and hospitality. Thanks to Lana and Irvin Becker for bringing their beautiful '52 Chevy to Art Deco Weekend and thus providing the perfect compositional element for my painting!
The painting in the lobby of the hotel
This painting is part of my Miami Beach Art Deco Series which currently comprises:
Avalon Olds
Beacon Bel-Air
Majestic Kaiser
Breakwater Chevy
Ocean Surf Caddy
Park Central Olds
May 2015