Interactive Engagement for Events
Creative Entertainment Experiences
I painted iPad portraits of guests at Blue Bear Live 2019 annual fundraiser on the Ohana Level of the Salesforce Tower in San Francisco.

Portraits created at a private holiday party in Stamford, Connecticut. Each couple received digital files of their portraits and the cool replay video, plus an 8×10 framed print to take home.



This iPad portrait was painted from life at the Michael Cerbelli's "The Hot List™" 2019 in Philadelphia. Each portrait subject received the special and unique take-away of digital files of their portrait and the replay video immediately on completion, which they could then share on their social media.
Cindy & Chris
This iPad portrait was created at an Art Benefit Auction VIP Preview Celebration in San Francisco.

It was a pleasure to work with you, and I can't thank you enough for your contribution to the Opening Night Party. Your Live Digital Painting was a HUGE hit!
~Greg Jenkins, Bravo Productions, Long Beach, California – organizer of The Special Event Show (TSE 2017).
A painting of guests at a company Holiday Party in the Rodin Gallery of the Legion of Honor Museum, San Francisco.

Live iPad portrait painting at the ILEA Gala 2016, Armory, San Francisco
"Thank you again for your support of the ILEA Gala! The character drawings were huge hits and added significantly to the success of the event!" ~ Sean F.
"Definitely worth it! We hired Jeremy for a trade show in San Francisco and he was very flexible to do whatever we wanted. We had him split between doing digital portraits and traditionally painting 2 canvases and it all worked out well. He had all his equipment, was very friendly to our colleagues and provided some quality giveaways for all the attendees. Would definitely hire again in the future!"
– Jordan B., AdvantEdge Healthcare Solutions, re live painting at Anesthesiology 2018, San Francisco
This video shows event planner Michael Cerbelli introducing me on stage at the Michael Cerbelli's "The Hot List™" 2019 in New York City.
Thank you for all your work on this!
~Jordan J.
Live iPad portraits in a VIP Hospitality Station at the MURAL Festival 2017, Montreal
Roving artist at the Cabaret Night in San Francisco.

Live iPad portrait being created at a corporate event, Baltimore, Maryland, September 2016

Live iPad portrait sketching at

PYM LIVE

, Hayes Mansion, San Jose, CA (photo: K. Sanders)
"I absolutely LOVE the portrait you drew of me! It was truly a special experience​. ​You are an incredibly talented artist and a lovely soul.​" ~ Karen H.

I have been a live event artist using digital paint media for over twenty five years. My clients have included companies, museums and private individuals. I've performed at a wide range of events, including conventions, conferences, trade shows, award galas, incentive and corporate meetings, openings, company get-a-ways and holiday parties, VIP suites, inaugurals, weddings, open houses, and other celebrations. I created live digital paintings for the Cirque du Soleil TOTEM show in San Francisco; at the opening of the David Hockney: A Bigger Exhibition at the de Young Museum, San Francisco; in the Nuit Blanche Festival, Toronto; live event iPad portraits at the largest custom car show in the world, SEMA, Las Vegas; and was the featured iPad artist performing live at the Smithsonian American Art Museum's America Now!Innovation in Art event in Washington DC.

Creating a live iPad portrait at a Star Wars themed corporate event in San Francisco, with Star Wars characters looking over my shoulder. Below are some other photos and an example of one of the portraits from the event.
"Extremely amazing job for our seminar. Was very entertaining and exquisite work. Very well received by the clients and we would most definitely have him entertain again in the future."​ ~ Rhonda K.
Painting portraits of guests at the California Academy of Sciences NightLife LIVE event in Golden Gate Park, San Francisco.
This video shows me painting portraits of custom car legends at the world's biggest custom auto show in Las Vegas. I usually use an iPad Pro with Apple pencil though I am happy to work on any platform and with any specific hardware or software required. Guests receive a digital file of their portrait plus a magical time-lapse replay video.

Portrait of Billy Gibbons created on the iPad at SEMA 2014 in Las Vegas using Sketch Club with Pencil by 53.

"Thank you so much! You were a huge hit (at SEMA)! I look forward to working with you again at future events."
~ Rick Husong, Chief Creative Director, LucidLA

Von Hot Rod on completion of his portrait at the SEMA 2014 Hall of Fame Gala, Las Vegas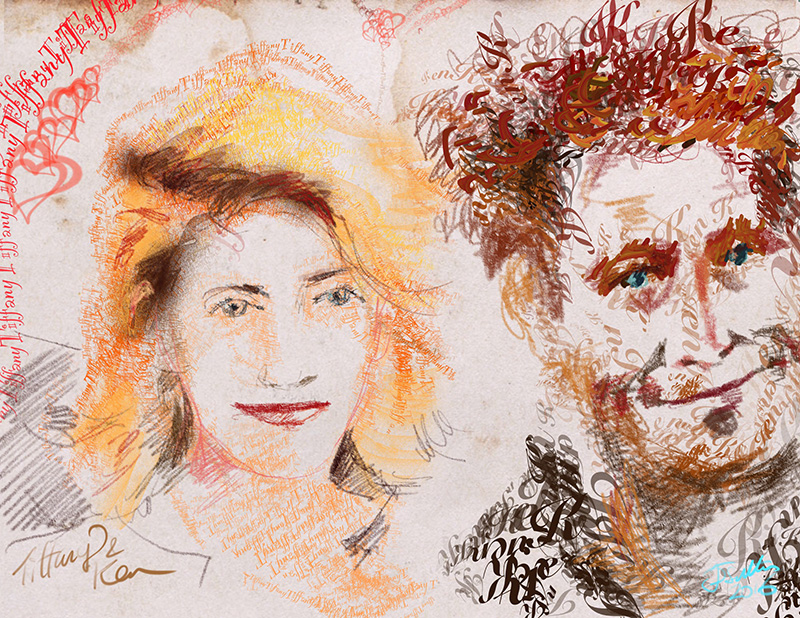 Valentines portrait of Tiffany and Ken, created at a private Valentines party using Sketch Club with Apple Pencil / iPad Pro. Note that each subject is depicted using brush strokes made of their own names!

Live iPad portrait painting of festival attendees in the Heineken Art Castle tent at the Forecastle Festival 2015 in Louisville, Kentucky, July 17 – 19, 2015
Wedding iPad Portrait of Amanda and Kunal

Creating a live iPad portrait at the "Hands On!" conference in the Rijksmuseum, Amsterdam.
CLICK HERE TO SEE MORE LIVE EVENT PAINTING EXAMPLES