Courage & Passion:
Portrait of Jackie Robinson
2005
Latex ink on canvas, 48″ x 60″
"A life is not important except in the impact it has on other lives."
~ Jackie Robinson
Recipient of the Congressional Gold Medal
This portrait is dedicated to the memory of the legendary and pioneering baseball player, Jackie Robinson, who started playing in the American Negro Leagues, and then became, when he signed with the Brooklyn Dodgers in 1946 (and playing a successful season in their farm club the Montreal Royals), the first black to play in the Major Leagues since the 19th century, ending decades of discrimination against blacks in baseball. Robinson valiantly and courageously withstood taunting and racism from players and spectators alike, in the end proving himself on the field and becoming one of the outstanding baseball players of all time.
This painting is based on a photograph of Robinson that appeared in the New York Times of 1949 when he was awarded the honor of being the Most Valuable National League Player.
This portrait was displayed as part of the 2005 Art of Baseball show at the George Krevsky Gallery, San Francisco.
This page is dedicated to the courage, determination and passion with which Robinson lived. He is an inspiring example to us all. You can find out more about Robinson from the Jackie Robinson Foundation. A print of this portrait was given to Robinson's widow, Rachel, and is in the art collection of the Foundation.
On May 11th, 2021, I installed a stretched gallery-wrapped 48″ x 60″ latex ink print on canvas of this portrait of Jackie Robinson at the San Francisco non-profit SF SAFE, an organization that provides crime prevention and public safety services in close conjunction with the San Francisco Police Department. Here are some photos of the day it was installed, along with some of the wonderful SF SAFE team, including Ms. Melanie, Ms. Julianna and Mr. Furlishous Wyatt Jr.: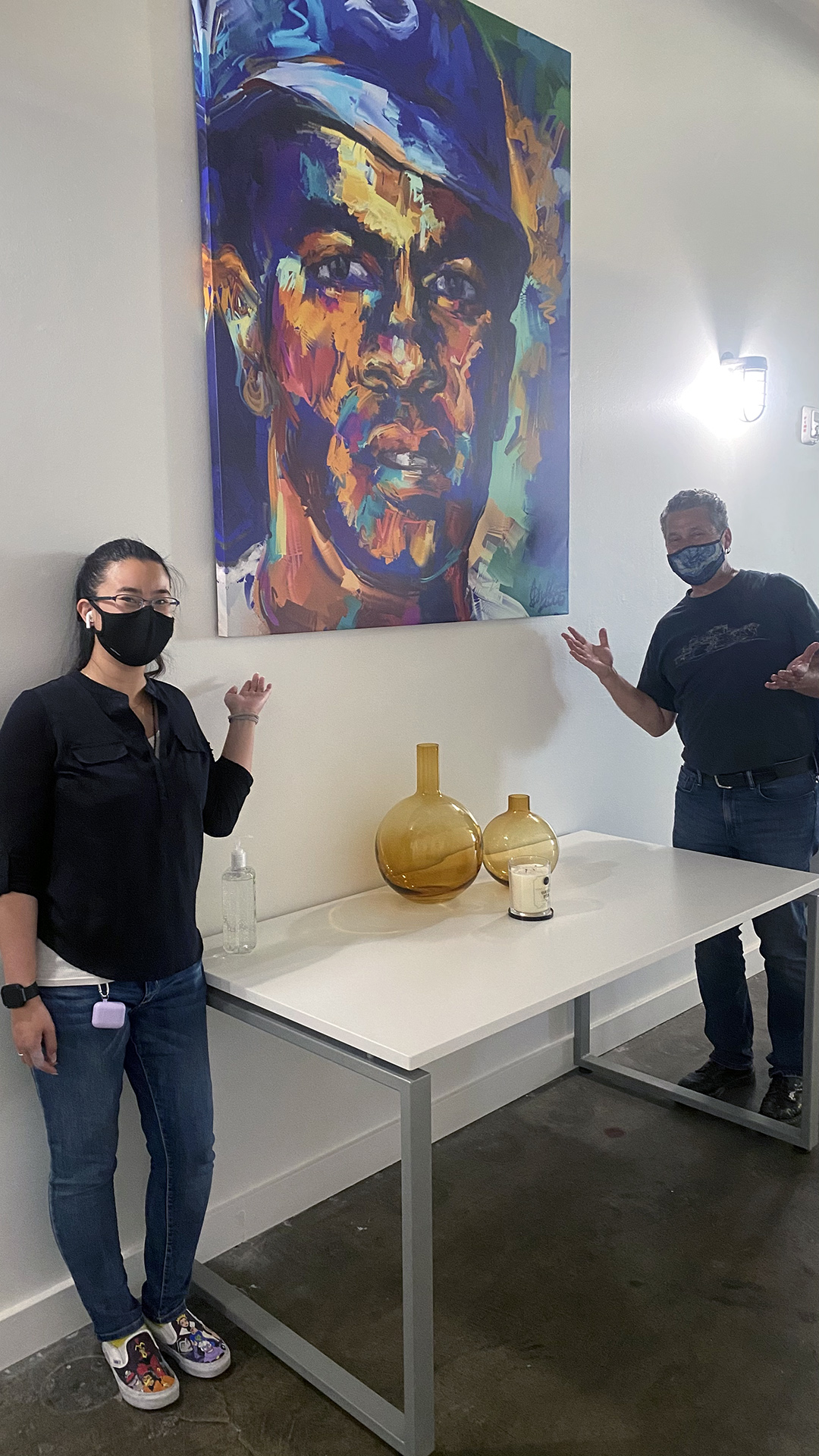 Other baseball legends I have painted include Willie H. Mays Jr., Barry Bonds, Madison Bumgarner and Hank Greenberg.