"Hammerin' Hank" Greenberg
2010
Mixed media on canvas, 54″ x 36″
This portrait is a tribute to the legendary baseball player Henry Benjamin "Hammerin' Hank" Greenberg who played with the Detroit Tigers and, later in his career, with the Pittsburgh Pirates. During the 1930s Greenberg endured anti-semitic cat-calling from opposing team members and the crowds, reminiscent of the racially charged abuse directed a decade later against Jackie Robinson. Like Robinson, Greenberg's exemplary skills on the field won over many. In 1934, when Greenberg played on the Jewish New Year and helped clinch the Tigers 2-1 pennant victory against the Red Sox, the Detroit Free Press ran "Happy New Year" on its front page in his honor. Greenberg, in his last year of professional baseball, met Jackie Robinson, who was starting his career in the major leagues, and encouraged him. They shared a common bond overcoming prejudice on and off the ball field. Greenberg was a five times All Star, twice named the American League's Most Valuable Player and elected to the National Baseball Hall of Fame in 1956 and into the National Jewish Sports Hall of Fame in 1995.
This portrait was exhibited at the Jewish Sports Hall of Fame of Northern California Gala on June 13th, 2010, where it was signed by Shawn Green who received the first Hank Greenberg award that evening. Here are some pictures from the event, plus some details of the painting.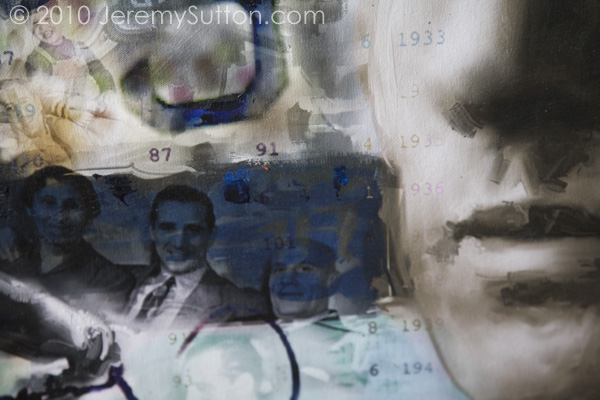 Other baseball legends I have painted include Willie Mays and Jackie Robinson.