Piano Indigo, 2014 – 2021
64″ x 60″, latex ink and acrylic media on canvas
Private Collection (Nevada)

This piano was on the stage when I saw Johnny Boyd, formerly of the swing band Indigo Swing, performing at the Elks Lodge in San Francisco in 2014. I was inspired by its quiet grandeur, sitting alone at the end of the show, bathed in atmospheric stage lighting. The title was inspired by the color that jumped into my imagination as I visualized a painting of this piano, and, of course, the famous composition by Duke Ellington called "Mood Indigo". For me this piano had a feeling of my own visual mood indigo.
The original "Piano Indigo" artwork I created in 2014 was a digital painting created using the painting program Corel Painter with a Wacom Intuos graphics pen-tablet on a Macintosh computer (iMac):
This year (2021) I was commissioned to create a physically painted version of the same image which I did with a latex ink base (Latex Technology prints whites as opaque ink rather than absence of ink) onto which I spent several weeks painting with acrylic paint, building up the impasto and transforming the painting into a new unique one-of-a-kind painted artwork. You can see it in these photos below hanging in my client's home above their beautiful grand piano: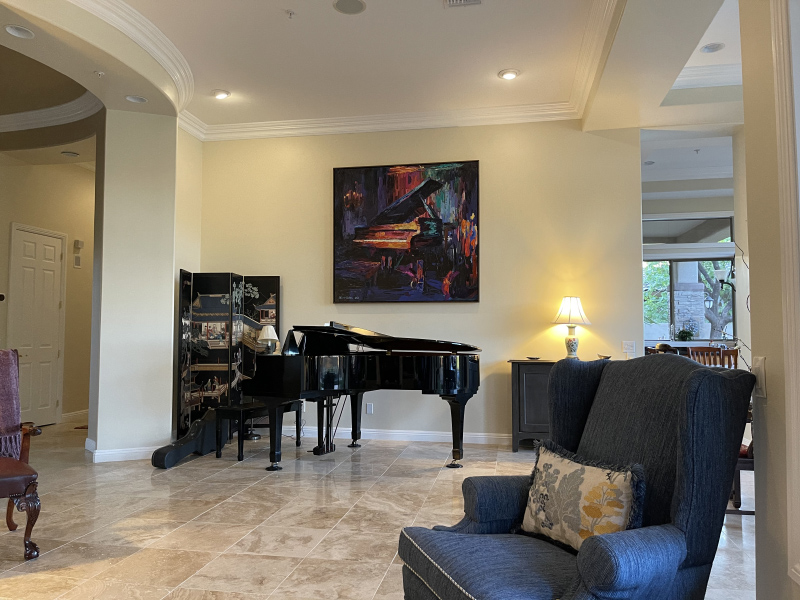 Here's a time-lapse video of the final touches being added to this artwork:

In this video (below) I explain my process working on this piece:

"Piano Indigo" was one of two of my artworks (the other one being Gazebo) accepted into the juried 2021 Salon at the Triton Museum of Art: Statewide 2D Art Competition & Exhibition, which runs June 26 through September 12, 2021.
Delivering Gazebo and Piano Indigo to the Triton Museum of Art for the Salon at the Triton show
For the Salon at the Triton show I created a 48″ x 44″ mixed media one-of-a-kind version of "Piano Indigo", with a combination of latex ink and acrylic paint on canvas. Here are some photos showing the 48×44 artwork, including some details and the frame:
Thanks to Peggy for the fabulous 2 1/4 inch deep stained maple wood float framing of the two versions of "Piano Indigo" – the 64×60 (private collection) version and the 48×44 (Salon at the Triton) version.