Virgin Atlantic
San Francisco Inaugural
1994
Portrait of Sir Richard Branson, created from life on board the Virgin Atlantic San Francisco Inaugural flight.
25 years ago, on May 17th, 1994, I was part of the Virgin Atlantic San Francisco Inaugural VIP group, invited to paint a live digital portrait of Richard Branson on board the flight. We were flown over from San Francisco (via LAX) to the UK, where we spent the weekend with Richard Branson, Virgin Group Chairman and Founder, and his family, colleagues and friends, in London and at his Oxfordshire estate (for tea and cricket), and then flew back on the very lively inaugural flight of Virgin Atlantic into San Francisco (which included a boxer short fashion show!) I drew live digital portraits of Richard and his family and guests during the weekend on the inaugural flight itself. This assignment launched my career as a full-time artist after 12 years as a physicist selling superconducting magnets! I used state-of-the-art equipment (for the time) including a prototype yet-to-be-released Macintosh Powerbook (kindly loaned to me by Apple) with a Wacom tablet and Fractal Design Painter X2 software.
Please visit the Virgin Atlantic blog post "Digital memories of our first flight to San Francisco" by Dave Gunner commemorating this anniversary.
Here are some more of the portraits and a few photos from the experience.
With Holly and Richard and one of Holly's friends in Richard's Oxfordshire garden watching a replay of my portrait of Holly.
Portrait of Richard's daughter, Holly.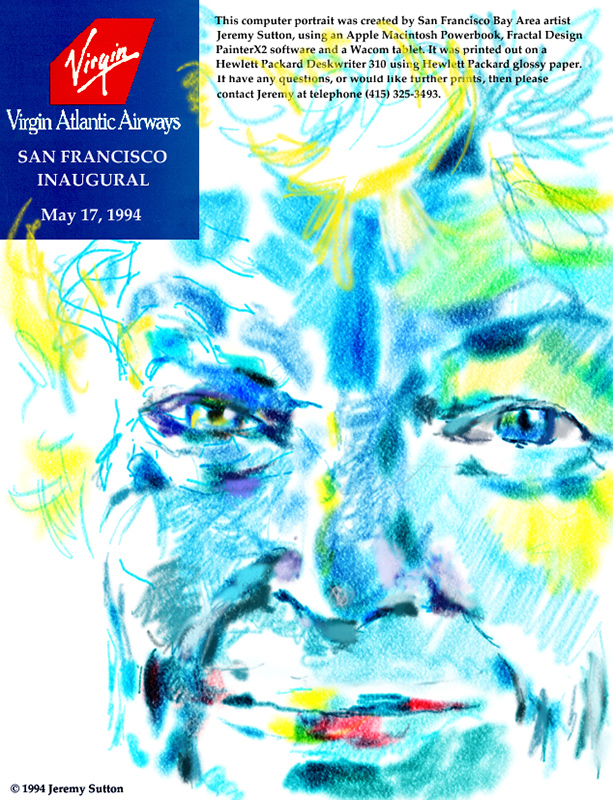 Portrait of Richard's mother, Eve.
Portrait of Richard's father, Ted.
At Richard's Oxfordshire home with lovely Marian and Vivian Brown, San Francisco's famous twins, who always had such wonderful smiles. We would bump into each other around town for many years after this event and all have a good laugh at how much fun it was!
Clarence Clemons playing on board the Virgin Atlantic San Francisco Inaugural flight.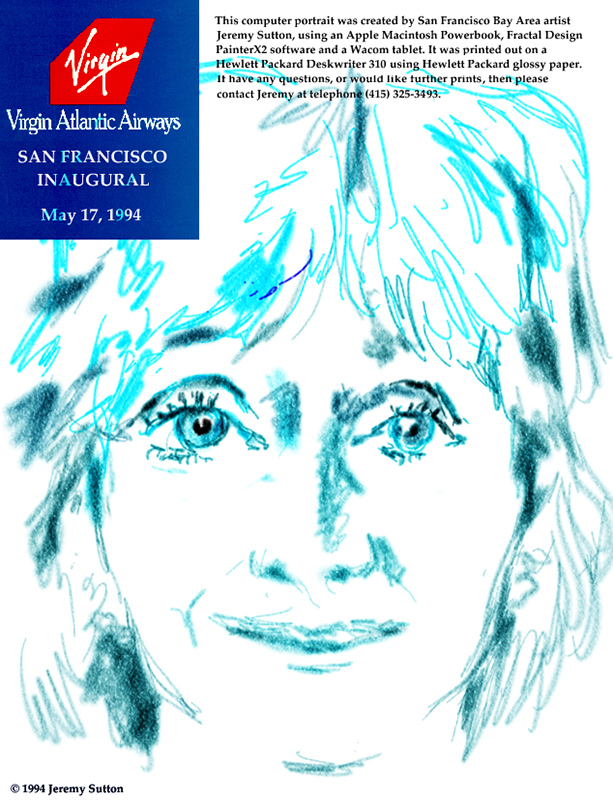 Portrait of Liz Brewer.
Portrait of Richard Mineards.
Portrait of Marci MacDonald.
Portrait of Everett Potter.
Portrait of Tony Hawks.
Portrait of Ruth Blakemore.
Portrait of Roy Gardner.
Portrait of Jan Jaques.
Richard drops by while I painted live portraits at the Virgin Atlantic Tenth Anniversary Party in London, UK, a few months after the San Francisco Inaugural.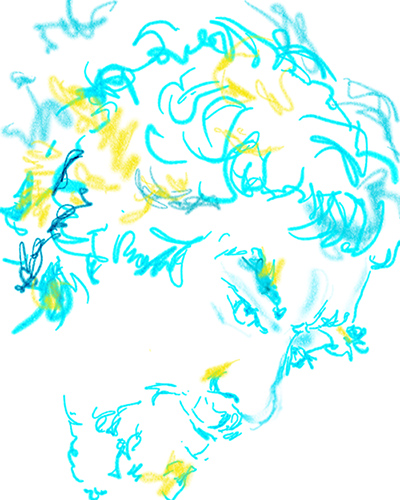 Quick sketch of Richard.