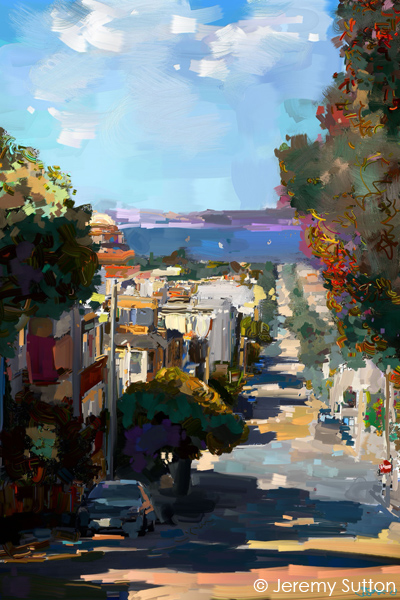 Looking Down Divis'
2013, Pigment ink on canvas
40″ x 60″

This painting depicts the magnificent view looking down on the San Francisco Bay on a sunny afternoon the top of Pacific Heights. That afternoon Peggy and I drove down to the Marina to see the last race of the America's Cup. With traffic we ended up seeing the only the top of the sails sailing away to the finish line! In the end what was most memorable was this incredible view looking back at the Bay on the way home. The painting was created freehand using Corel Painter X3 with a Wacom Intuos Pen Tablet and a couple of new custom brushes I had just made (Trail-off Bristle Brush and Camel Hair Bristle), and manifest physically as an archival pigment ink print on canvas. Having recently walked around the wonderful Diebenkorn exhibition at the de Young Museum a few times prior to painting this, plus my admiration of Matisse and the Fauves, influenced my choice of colors and composition.
I made two versions of this painting: a taller narrower version shown below and a shorter version shown above.

Looking Down Divis'
2013, Pigment ink on canvas
44″ x 100″

This painting was displayed at my iPad painting performance at the opening of the "David Hockney: Bigger Exhibition" in the de Young Museum, October 2013