Dutch Windmill and Tulips, 2021
GGP150 – Sketch 9

Music Concourse, 2020
GGP150 – Sketch 8

SkyStar, 2020
GGP150 – Sketch 7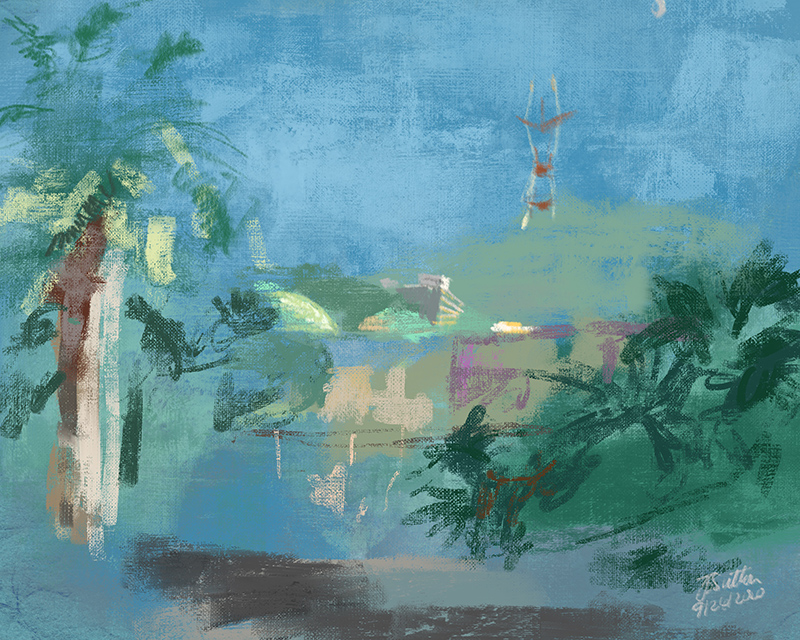 Sutro Tower from the de Young, 2020
GGP150 – Sketch 6

Stowe Lake, 2020
GGP150 – Sketch 5

Murphy Windmill, 2020
GGP150 – Sketch 4
The Murphy Windmill was completed in 1908 and, along with the Dutch Windmill to it's north, was instrumental in helping drain the sand dunes, transforming them into a green oasis, and irrigating the eastern section of the park (by filling the reservoir on Strawberry Hill). They were operational until 1935. In their heyday the two windmills pumped up to 1.5 million gallons of water a day! Designed by Bay Area architect J.C.H. Stut, based on Dutch designs, the Murphy Windmill was the largest windmill of its kind in the world, standing 95′ tall, with a sail span of 140′.

On this page I share examples of an on-going series of plein air iPad sketches being created in honor of the San Francisco Golden Gate Park's 150th Anniversary. Each sketch is created from direct observation using an iPad Pro, Apple Pencil and the Procreate app. My goal is to complete 150 sketches in total and have them exhibited as a series in the park.
---
The Rose Garden, 2020
GGP150 – Sketch 3
The sketch above shows some of the blooms of the Golden Gate Park Rose Garden being enjoyed by various human visitors and a dog. This delightful patch of color was originally created in 1961 as a testing site for trial varieties of the San Francisco chapter of the American Rose Society.
---
The Ferris Wheel, 2020
GGP150 – Sketch 2

The sketch above depicts the 150′ diameter ferris wheel currently located at the east end of the Music Concourse. It will remain there until March 21st, 2021. It evokes the 1894 California Midwinter International Exposition (CMIE), also known as the "Midwinter Exposition" or the "Midwinter Fair", which was created to stimulate California's economy in a time of depression, though opposed by the Golden Gate Park Superintendent John McLaren. You can see a ferris wheel from that original fair in this night time photograph:

---
The Music Concourse Bandstand, 2020
GGP150 – Sketch 1
The sketch above shows (somewhat obscured by trees) the Golden Gate Park Bandstand, also known as the Music Stand, which sits at the west end of the Music Concourse. That band stand has a lot of memories for me since it is where the iconic Lindy in the Park started back in 1996. The band stand is currently undergoing some renovation with a temporary green fencing around it and new light pillars with speakers now juxtaposed against the original old structure, which dates all the way back (with a few rebuilds along the way) to 1883, just twelve years after the founding of the park.
---
Series progress: 4 completed / 146 to go…