AR-enabled Silicon Valley Series at the Atlas Cafe

The artworks on display at the Atlas Cafe, the series Iconic Silicon Valley Places, were all created on location from direct observation, 'en plein air', using the iPad Pro, Apple Pencil and Procreate app. Each was painted in a single session, 'alla prima'. The prints are Bay Photo MetalPrints™, dye sublimation fused into aluminum. This series depicts places that have had important and iconic roles in the development of Silicon Valley as an incredible crucible for technology and innovation, created with a tool that is itself the product of Silicon Valley!
To add an extra dimension of insight into the creative process for each painting I have augmented them all utilizing the free app HP Reveal (see the videos taken by show organizer Shahasp, shown above). In other words I have enabled an Augmented Reality (AR) overlay that you can experience yourself using your phone or iPad or other mobile device. To make the most of your visit to the show please install the free app HP Reveal on your phone or mobile device and bring head phones so you can listen to the music associated with each piece! Turn your phone volume up. Open the app, allow it to use your phone camera, skip setting up an account, click on the target symbol (you'll then see 'bouncing balls' superimposed over your camera view of what's in front of you) and point your phone at each artwork in turn.
Please join me at the show on Sunday, November 3rd, 7pm – 8pm, for the End of Show reception. It'll be the last chance to see the AR-enabled Iconic Silicon Valley Places series on display at the Atlas Cafe.

Google Bikes, 2017
20″ x 20″, dye sublimation on aluminum
LOCATION
Atlas Cafe, 3049 20th Street, San Francisco, CA 94110 (cross Street Alabama)
Through Sunday, November 3rd, 2019
Cafe open hours:
Monday – Friday: 6:30 AM to 10:00 PM
Saturday: 8 AM to 10 PM
Sunday: 8 AM to 8 PM
End of Show Reception: Sunday, November 3rd, 7:00 PM – 8:00 PM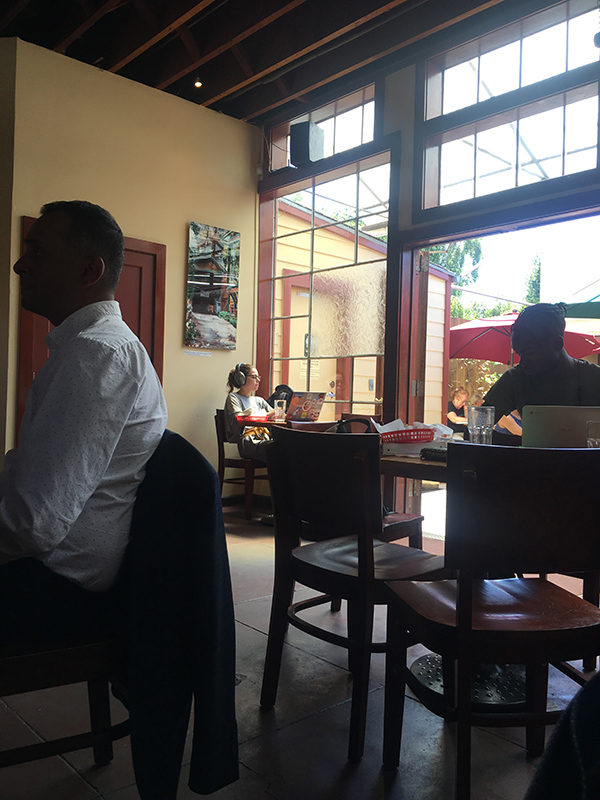 The iPad as an Art Tool
The combination of the iPad Pro, Apple Pencil and Procreate app offers a versatile and powerful art medium, one that is both responsive to the pressure applied as well as extremely portable and convenient. The challenges of the iPad as an art medium is the limited physical size and the smoothness of the glass surface.
For me the iPad complements traditional media, offering a new art medium that opens the door to a whole new world of different creative possibilities:
Easy sharing process through the built-in time-lapse replay functionality.
Paint that never dries so you can continuously and endlessly work into the surface, transforming what is already there.
Endlessly malleable substrate since the iPad glass never wears down, allowing you to work into your painting without fear of wearing through the substrate.
Instant access to your art materials that are ready for action within seconds and leave no mess behind – little to no set up or
break down time.
Extreme portability – an art studio you can always have with you and you can take anywhere.
About the Artist
Jeremy Sutton is a local artist with a studio in the 1890 Bryant Street building. Originally from London, Jeremy studied physics at Oxford University, and became a live event painter specializing in digital media after moving to Silicon Valley. He has performed
with Cirque du Soleil, at the Smithsonian Institute and on the Birdland All-Stars "Art of Jazz" Tour. You may have seen Jeremy perform at the de Young Museum over the years, including at the opening of the "David Hockney: A Bigger Exhibition".
If you want to study iPad painting with Jeremy
please join the iPad Painting Pizzazz Workshop:
October 16 – 18, 2019
$1,200
Jeremy is available for Live Event Painting at your company party or special event.