A great way to bring together a team or group of conference attendees and to bring out their creativity! A stimulating, engaging, introduction to the art of drawing and painting (with digital or non-digital media). Virtual Draw-Alongs combine entertainment, artistry and education, making drawing fun and easily accessible to all. These remote sessions are engaging and interactive as well as educational, motivational and inspiring. Typically 45 – 60 minutes, they include team-building elements like a community art gallery and collaborative projects. They can also serve as a relaxing end-of-day "paint 'n' sip" social, with, for instance, a famous artist's style as a theme. Great as an entertaining value add for conference marketing for online events. Bring everyone together virtually for a refreshing time of art and artistry!
To discuss a Virtual Draw-Along, please email me at jeremy@jeremysutton.com. I look forward to working with you!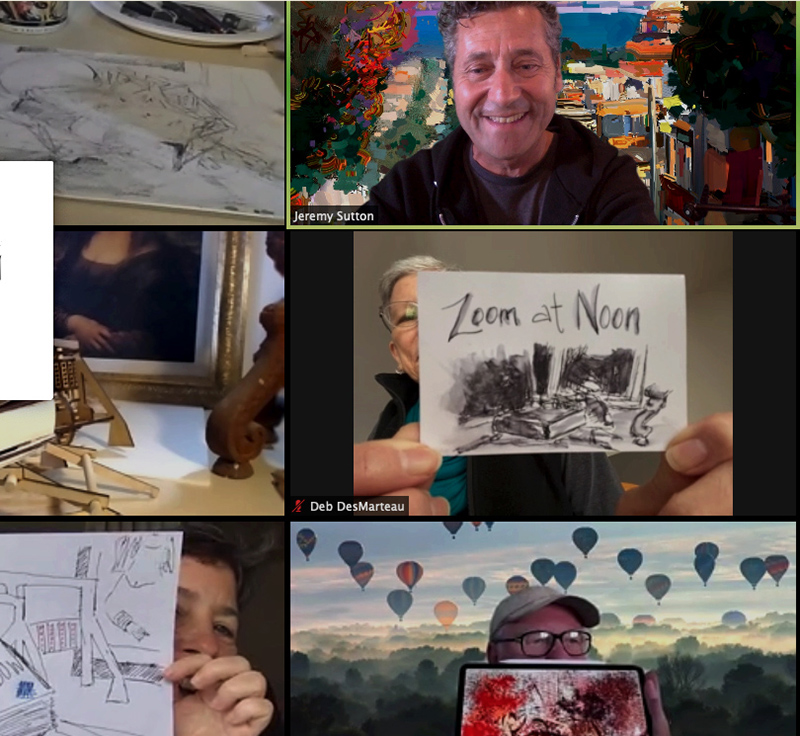 I customize each session to suit the needs of your particular team or group. That includes what art media and streaming technology are used, the subject matter we draw and the duration of the session. I can teach any size group.
The tools I usually use are the Zoom Webinar remote conferencing technology while drawing with the iPad, Apple Pencil and Procreate app. This works very powerfully in combination with a Slack channel for chat, interaction, Q&A and sharing before, during and after the session. I used the Zoom-Slack combination very successfully for the Reboot 2020 online event produced by EventGeek. Almost 1,000 attendees dropped in and participated from all over the nation. I can use any client-specified conferencing technology and digital paint platform and media. The participants can also work on any media, digital or otherwise.
I cover all the practical workflow basics. The focus in my Virtual Draw-Alongs is on the fundamental principles of observational drawing and freeing yourself up in the creative process. Participants will experience and learn the following creative skills, many of which can be applied in other fields and aspects of life, professional and personal:
the art of taking risks on the digital canvas

observational and hand-eye coordination skills

the power of playfulness

the balance of chaos and order within the creative process

the value of embracing serendipity

how to flow with improvisation

observational skills for drawing what you see

approach to depicting form through light and shade

creative ways to use color

the freedom of transforming "mistakes" into valuable contributions to the enrichment of your canvas

how to record, replay and share their process
Testimonial
"Really enjoyed the day! Very welcoming and relaxed. Enjoyed Jeremy's teaching style. Great way to break out creatively using technology."
~ Natalie G., brought 14 person team from Europe and the Americas to Jeremy Sutton Studios for a one day private iPad workshop