Interactive Engagement, Art Lessons and Collaborative Mural Painting for Virtual or In-Person Events
Creative Entertainment Experiences
Team-Building / Art Breaks / Draw-Alongs / Art Classes / Paint 'n' Sips
Collaborative Murals – In-Person or Virtual
Collaborative mural art activities can be facilitated either in-person or virtually. The virtual mural sessions typically take 60 – 120 minutes. They can serve as a relaxing end-of-day "paint 'n' sip" social, with, for instance, a famous artist's style as a theme. Great as an interactive, engaging and entertaining value add for conferences, off sites and team building. Bring everyone together for a refreshing time of art and artistry!
This example (above) shows 'My Window', a collaborative art-making virtual engagement experience for virtual conferences, team-building meetings and other virtual group events. A collaborative artwork was created, made up of individual attendees' drawings of the view they each see looking out of their window, all created during the live interactive Zoom session! One of the participants commented: "That was fun – thanks! To see my little sketch incorporated in the collage gave me a warm feeling! Thanks for putting the collage together." A time-lapse replay of the collage process is shown below. We start with a warm welcome, an inspirational intro slide-show and a short drawing demo followed by time for attendees to draw or paint their view out of a window. This experience can be completely customized to suit a client's needs, themes and branding. The subject matter does not have to be 'My Window'. This is a great team building virtual activity and also can contribute to building creative and lateral thinking skills through art practice.

For in-person events we can offer a custom paint by numbers collaborative mural painting group art activities, as illustrated by the examples (below), led by fellow artist Peggy G.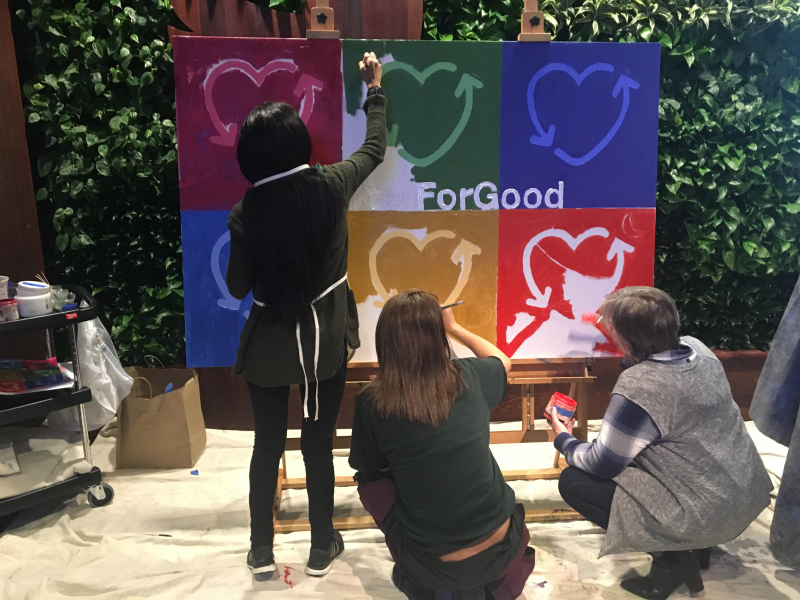 Art Instruction: In Person or Virtual
Jeremy leads participants in a fun, engaging art activity. Everyone gets to make something. Jeremy's enthusiasm, encouragement and passion is catching and everyone enjoy these creative interactive art instruction sessions! Each session is customized and adapted to suit the client's needs.
In the case of virtual art instruction Jeremy can teach iPad painting (using the Procreate app); or participants can be sent an art kit and work with pencil, crayon and watercolor, for instance; or we can work with any materials the participants have at hand.
This following example, the Mad Hatter Virtual Art & Tea Party, was a virtual art activity centered around an "Alice in Wonderland" theme and was produced in conjunction with Earth Circus who supplied the themed characters (March Hare and Red Queen).
The virtual art instruction sessions are typically about one hour long – this gives sufficient time for a short educational demonstration by Jeremy with handy art tips, and enough time for participants to draw without feeling rushed. At the end of the session participants uploaded their artworks onto a shared "Padlet" virtual art gallery.
In the ReBoot conference example (above) participants all created a still life painting during the session.

'Sketch to the Groove' is an engaging, interactive virtual art experience designed as a fun, lively and energizing creative "stretch break" for virtual conference participants. You can think of this as an Art Break, Virtual Draw-Along, Zoom Art Class or Paint 'n' Sip. A great way to bring together a team or group of conference attendees and to bring out their creativity!

This virtual art instruction session was provided for an alumni group.

Below are photographs from examples of in-person art instruction sessions co-taught by myself and fellow artist Peggy G for major Silicon Valley corporation off-sites.
To discuss a Group Art Activity, please email me at jeremy@jeremysutton.com. I look forward to working with you!