Shahasp, 2017
48″ x 48″, acrylic on canvas
Available for sale $12,000 (contact Jeremy to purchase)
I invited Shahasp to participate in an open-ended collaborative creative project. I wanted to work on a traditional media portrait slowly over time, in contrast to most of my very fast digital work. I took the time to work on this slow projects on a regular basis, roughly once a week for about two hours, without a deadline, without the pressures of a commissioned artwork, without trying to please anyone, and with open expectations and a willingness to take risk. The only boundary condition I set myself was the commitment that every mark I make during the entire process is made from direct observation while my model is sitting in front of me. No photographic reference was used. This artwork ended up taking about ten months, starting August, 2016, and ending March, 2017. Click here if you'd like to see the next "slow project" I am working on with Shahasp, this time on paper.
March 31st, 2017 – Live Demo at Spring Open Studios
Jeremy working on his painting of Shahasp in a live art performance to the musical accompaniment of harpist Sarah Lamb (photography by Jay Cunanan)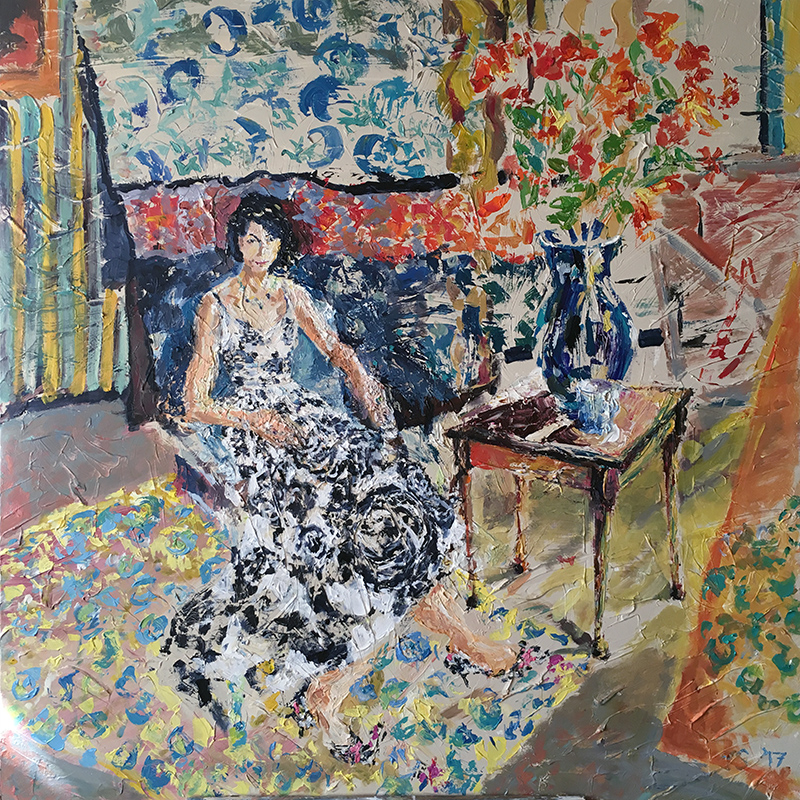 March 13th, 2017
This painting, plus some of the preparative studies, were displayed at my Open Studios exhibition, March 31st – April 2nd, 2017, which included a live demo working on the portrait with Shahasp sitting in person. Last Thursday I went to see the fabulous Matisse/Diebenkorn exhibition at SFMOMA and was definitely influenced and inspired by what I saw there as I worked on the portrait today. May have overdone the thick black lines, but can always transform those later. Added some geometric elements (verticals, diagonals, blocks and so on) in the corner areas that had been a little neglected up to now. That's a corner of my canvas itself now showing in the lower right (picture within picture)…Feel that the artwork is starting to transition from a sketch or study to an actual painting… Still lots to do!!
March 6th, 2017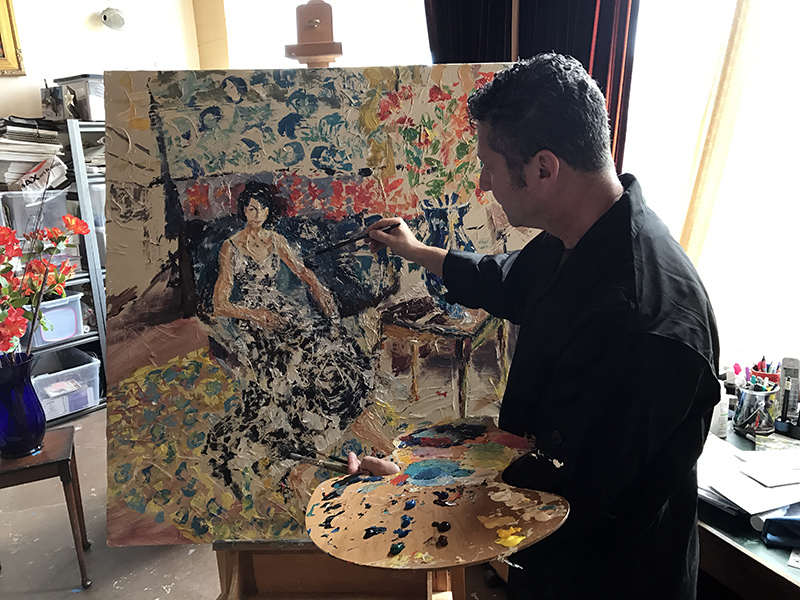 February 27th, 2017
January 23rd, 2017
December 5th, 2016
November 28th, 2016
Starting to work into the shapes. Taking a month long break (actually six weeks) and then taking a fresh look really makes me realize all the things not working! As I moved around the canvas with my palette knife I realized how much my view of the scene changes, even with just a few feet of movement. That constantly changing perspective is also what I love about drawing/painting from life – it's a variety of views that no single photograph could ever capture. Working from a flat photo could never approach the movement and change in painting from life. My changing view of my subject as I move is challenging yet also refreshing! I also noticed the different light coming through the window and how it highlighted the scene in such different way to a month ago: the sun now lower in the sky as we transition from autumn to winter…
~ Jeremy


November 28th, 2016

October 17th, 2016
48″ x 48″ acrylic on canvas

October 10th, 2016
48″ x 48″ acrylic on canvas


One of my favorite parts of this process of sitting for a portrait is the evolution of it…how unexpected the portrait is. Each week I'm delightfully surprised by what unfolds. I love the depth of the texture and how much it lends itself to the character of the whole painting. I love the bright colors!
~ Shahasp


I love this process.. the voyage of discovery, of allowing the journey to flow and accepting the unexpected turns and twists along the way. I love the commitment to the journey.. an open-ended exploration and creation. I love getting to know my subject, Shahasp, better with each sitting.
~ Jeremy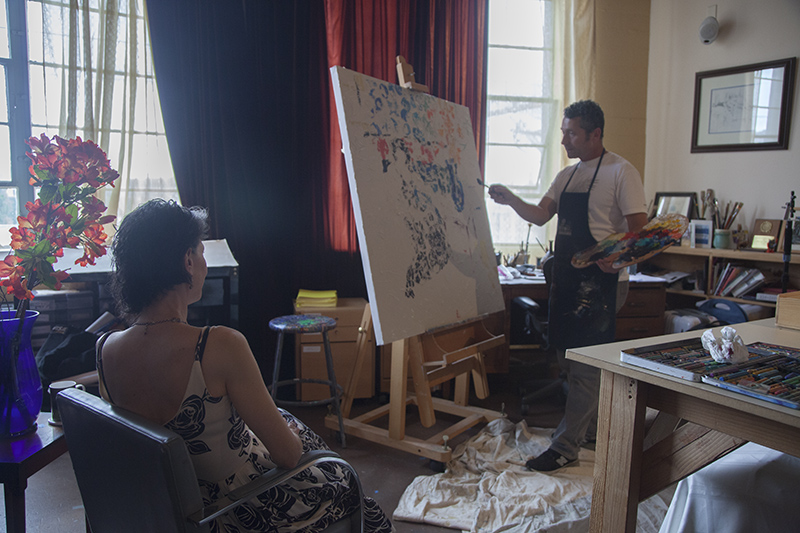 The scene.. – October 10th, 2016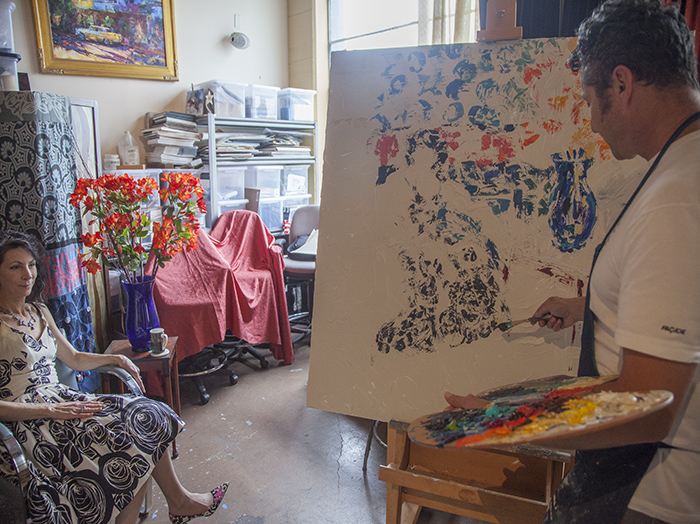 The painting so far… – October 10th, 2016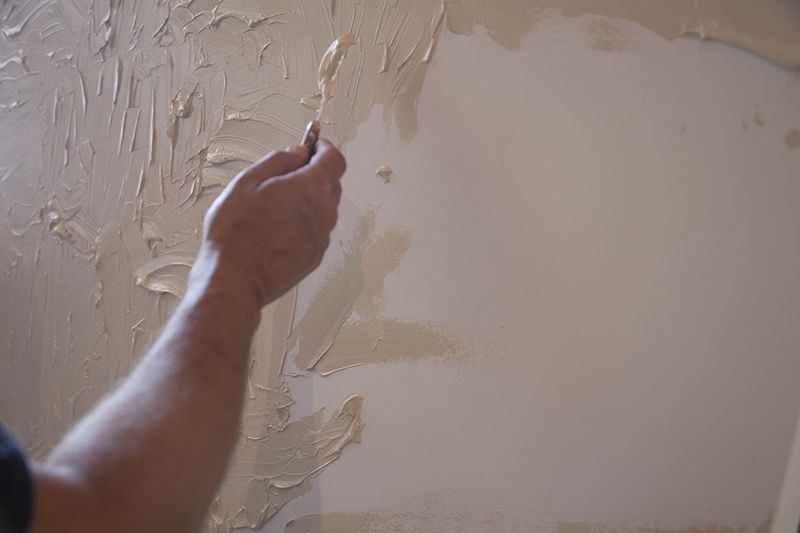 Underpainting – August 15th, 2016
48″ x 48″ acrylic on canvas


I knew texture was very important to me in this artwork. I decided to create my 'ground' with thick palette knife application of Titan Buff acrylic paint. As I applied the paint I looked at my subject and essentially painted the entire scene in impasto textural relief. I liked how it looked without any color – I could see the whole composition in the light and shadow of the texture. As an unexpected side product it was also a fabulous surface to capture for my iPad backgrounds!
~ Jeremy

Full scale compositional study – August 15th, 2016
48″ x 48″ graphite on paper


I decided on 48×48. It just felt right. My next step once I'd made that decision was to work on the compositional decisions: what scale to place Shahasp within the edges, where to place her vertically and horizontally, what symmetry/asymmtery to work with and what to have flowing off, and cut off by, the edges of the composition?
~ Jeremy

Shahasp sitting – study on canvas – August 6th, 2016
24″ x 36″ acrylic ink on canvas


The studies led into working on a 24 x 36 stretched canvas. I was inspired by the wonderful colors, shapes and patterns of Matisse's work. I soon found, though, that I felt cramped in the space on the canvas, both with respect to overall dimensions as well as with regard to the aspect ratio. I knew I needed to work bigger! This 24 x 36 study is available for purchase for $6,500 (contact Jeremy to purchase).
~ Jeremy

Quick study on paper – August 1st, 2016
18″ x 24″ oil stick and pencil on paper


I started with drawing a couple of quick studies on 18 x 24 paper. This helped me get to know my subject and my composition…
~ Jeremy

Quick study on paper – August 1st, 2016
18″ x 24″ pencil on paper