The Difference between Augmented Reality (AR) and Virtual Reality (VR)

Augmented Reality (AR) is when a virtual component is over-layed onto, or mixed in with, your real world experience.
Virtual Reality (VR) is a complete immersive experience in a virtual world.
Augmented Reality (AR)
I am excited to be able to share a new level of experience when viewing prints of my iPad art by adding an Augmented Reality (AR) component. By viewing the art through your mobile device running the free app HP Reveal you will see an overlay video that gives added context and insight into the creative process, typically showing a time-lapse replay of the painting, often accompanied by relevant music. The AR component deepens the viewers' understanding of the artwork and adds an experiential component that shines light on the process and the story behind the art. This is truly transformational technology for the way we all experience art.
I am working with an exciting new development in AR for artists, an app called Kaleido that is currently in prototype and not available to the public. To give you a taste of what is to come see this video of me trying it out for the first time.
To view the AR component in my art:
Download the free HP Reveal app onto your mobile device. It is available on the iOS iTunes App Store and on the Google Android Play Store.

Click on the detect symbol at the center bottom of the screen (looks like four square corners in a solid blue circle).




You'll now see your camera view with six bouncing balls bouncing in and out of a central stationary ball. Point your device's camera at my artwork, which can be either a physical print or a screen image. You'll now see the AR video overlay! Here's an AR enabled image, my Horszowski Trio at Kohl Mansion, you can use to test the AR functionality:

To replay the video overlay from the beginning just turn your device camera away from the artwork (which automatically discontinues the AR video overlay) and then direct your device camera back again at the artwork and the AR video will start playing again from the beginning.
To save you time searching on my site, here are some other of my AR enabled artworks:
Daedalus Quartet at Kohl Mansion
Art of Jazz Tour 2018
The Hewlett Packard Garage, Palo Alto
SRI International, Menlo Park
Intel, Santa Clara
Xerox PARC, Palo Alto
Apple Park, "The Spaceship", Cupertino
Google Bikes, "Googleplex", Mountain View
Facebook Thumbs Up Sign, Menlo Park
Twitter, San Francisco
Drew Bennett
Gustavo – VR Portrait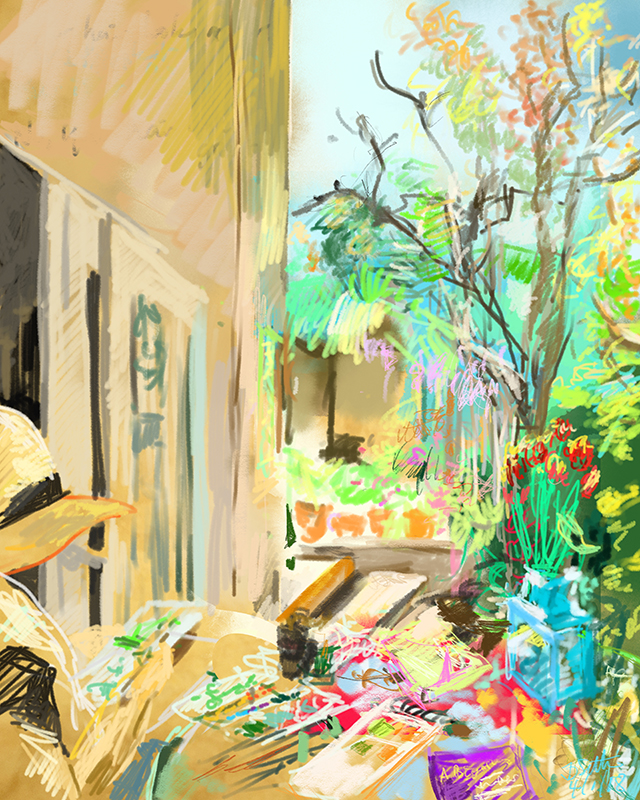 West Hollywood Garden
Patience and John
Painting the Scene at the Davis Estates
Virtual Reality (VR)
Experience painting in three dimensions – something that Picasso would have loved – and sculpting in a way that Rodin couldn't even have imagined in his wildest dreams! Enjoy a creative world of unlimited possibilities in which you can literally walk into and through your brush strokes. That is the amazing experiential immersive world of Virtual Reality (VR) that you will experience first hand using the Oculus Rift VR system and the Google Tilt Brush 3D painting program. As a twenty-five plus year digital paint veteran and pioneer, I am excited to guide you as you experience this revolutionary leap into the future!
Thank you again for the tour into the virtual world. What an amazing experience! ~ Anthony
This is truly for everyone no matter what background, experience, profession or age. Every single person I've seen put on the goggles and experience VR for the first time lets out a gasp of disbelief and usually accompanied by a loud "Wow!!!!" in their first moments in this amazing new world!
The Introductory VR Art Experience includes:
Overview of VR technology: historical context, the hardware and the software, a list of everything you need to get going from PC, monitor and video card to headset, sensors and touch controllers.
Power tips on set up, usage and documentation.
Terminology – understanding the difference between Virtual Reality (VR), Augmented Reality (AR) and Mixed Reality (MR).
Introduction to the VR world (including the iconic First Contact experience).
Introduction to the Rift lounge, interface and navigation.
Introduction to Google Tilt Brush – understanding the brushes (choosing and controlling them), customizing the environment, moving around within the VR space (including the very cool teleporting!), zooming in and out and rotating your work, saving your work, watching it replay, exporting it and sharing it with others.
Time to work on your own project.
Tilt Brush files of your 3D creation (a folder usually comprising json, fbx and png files).
Video of your creative process in action as you paint showing your view within Tilt Brush plus some externally recorded video of you painting.
The level can be adjusted to suit your experience. If you want more in-depth Tilt Brush training or art technique training, that can all be provided. Light refreshments will be served. Ideal for individuals and couples, this can also be suitable for small groups. Though only one person at a time can be immersed in the VR with the headset on, the others in the group can enjoy watching everything on a 55″ LED screen.
For team building and company off-sites the VR Experience can be combined with other creative tech-art activities such as iPad drawing. Such group activities will be customized to suit the group and quoted on a case-by-case basis. Email me to discuss a visit.
The screen shot above shows a recent 3D painting project, "Gustavo" – a VR Portrait. Also see my sketch notes from the Future Presence book talk, a conversation between author Peter Rubin and Second Life founder Philip Rosedale.
Click here to see my 2017 VR-based live performance in Las Vegas.