Menlo Park Evening of iPad Art!
Friday, December 1st, 2017
5:30 – 7:00 pm, Live iPad painting of the City of Menlo Park Holiday Tree Lighting , Fremont Park (Santa Cruz Avenue at University Drive)
Visit Fremont Park for the Holiday Tree Lighting presented by the City of Menlo Park and the Menlo Park Chamber of Commerce. This holiday favorite event brings the Menlo Park community together to ring in the holiday season. Come enjoy free live entertainment, free hot cocoa, and the lighting of the holiday tree.
Overlapping with, and literally across the road from, this live iPad painting will be a free public opening reception (6 – 9 pm) for an art show that I am participating in: iPad Art: Places – 3 Brits in Silicon Valley at Art Ventures Gallery, 888 Santa Cruz Ave (at University Avenue), Menlo Park, California 94025. There will be artist talks from the participating artists: myself (7:30pm), Adam James Butcher (6:45pm) and Caroline Mustard (also 6:45pm). All are welcome!
I will be showing artworks from my new series, Iconic Places of Silicon Valley (see artworks listed below), in this exhibition and will be at the show in person from about 7:30pm (I am painting across the road in Fremont Park until 7pm). The artworks of mine that will be included in this exhibition, listed in the order the companies were founded (founding year noted in parenthesis), starting with the oldest:

The Hewlett Packard Garage, Palo Alto (1939)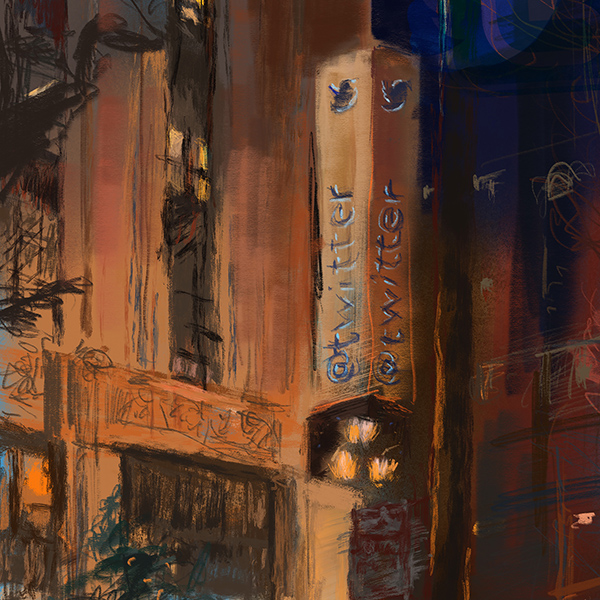 SRI International, Menlo Park (1946)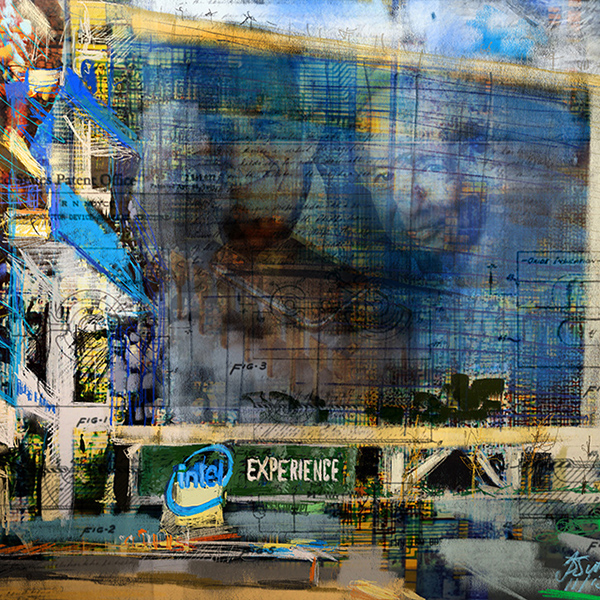 Intel, Santa Clara (1968)

Xerox PARC, Palo Alto (1970)

Apple Park, "The Spaceship", Cupertino (1976)

Google Bikes, "Googleplex", Mountain View (1998)

Facebook Thumbs Up Sign, Menlo Park (2004)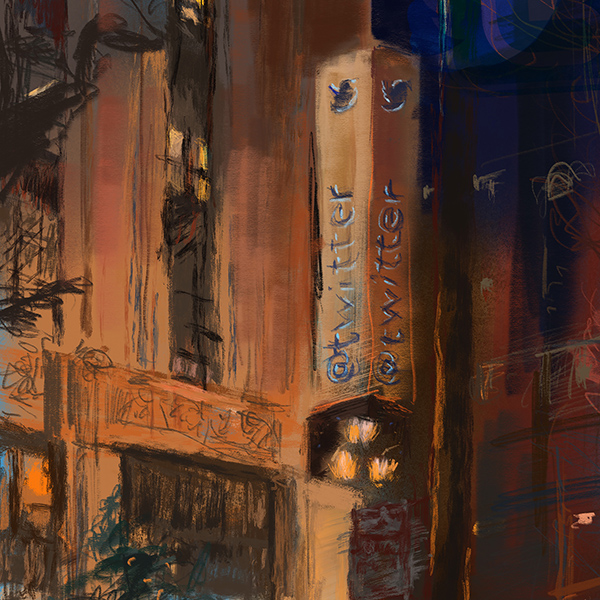 Twitter, San Francisco (2006)


..and, not an official part of the series, but almost (will be silent auctioned to support local arts education at show opening reception):

Cafe Borrone, Menlo Park (1979)
Big thank you to BayPhoto for helping us out with the beautiful metal prints for this show.
The tentative schedule for the opening reception:
6pm > show opens
6:30pm > Katharina (owner of Art Ventures Gallery) intro
6:45pm > Caroline and Adam talk/dialog 30 min plus Q&A 10 min
7:30pm > Jeremy talk/demo/performance 30 min plus Q&A 10 min
8:15pm > silent auction for local arts nonprofit Art in Action and announcing winning bids
9pm > show closes
Please note that due to my live painting performance across the street (which goes until 7pm), I probably won't arrive at the reception until after 7:15pm.
From the press release for this show:
Art Ventures Gallery, located in the heart of Silicon Valley, presents a unique and provocative exhibit of iPad art paintings by 3 established British artists from the Bay Area and abroad, on Dec 1-30, 2017. Opening night is Dec 1 and will feature a catered reception and captivating artists talks on the process of creation using the iPad and today's art apps. Works are inspired by local scenes in Silicon Valley and the Mexican Riviera, are available for purchase, perfect for gift-giving during the season of light. Opening night also features virtuoso jazz guitarist Bill Murphy, and a silent auction to benefit local nonprofit Art in Action, dedicated to providing visual arts education to children in the regional area.
In Silicon Valley, where most pay homage to the altar of tech, new exhibits and conversations around the intersection of art and tech are taking place: which informs, inspires and influences the other more? LA-based British contemporary artist David Hockney welcomed and legitimized the iPad as a new tool in creating fine art, dazzling 1000s at museums and galleries globally.
"What fascinates me is not just technology but the technology of picture-making. I spend more time painting, of course, but I treat the iPad as a serious tool. The iPad is influencing the paintings now with its boldness and speed." David Hockney
Art Ventures Gallery presents its own British collective of iPad-created fine art works by Adam James Butcher, Caroline Mustard, and Jeremy Sutton.
In 2014, British artist Adam Butcher moved from the U.K. to the Riviera Maya in Mexico, where he now works as a professional artist. Since the big move, Adam has made a big impact on an international level. Fine artist, Coach, speaker and writer, he has become a world authority on iPad painting and advocate of the mobile digital art movement. Adam now regularly contributes to The Huffington Post (US) where he has been sharing his ideas on the creative integration of traditional fine art techniques and new light based digital technologies. He is also the creator of the 'Creative Barriers to Breakthroughs' program, where he helps artists break through their creative barriers, so that they can achieve the fulfillment and recognition they deserve. Passing from sculpture to collage to painting in the course of his career, Adam uses the iPad as a particularly effective tool for capturing the moment, both in lightning portraits and in strikingly immediate town, land and seascapes.Adam's work has been exhibited in the United States, Europe and Asia. His work is inspired by his growing interested in exploring and communicating the physical and spiritual distance between us
Caroline Mustard's work was created on mobile devices (iPad and iPhone), covering the artist's artistic journey since she was handed an iPad five years ago and fell in love with it as a medium. Since then it has become her canvas of choice while the iPhone has become her sketchbook. It has been curated to reflect the paradoxical aspect of her wide body of work: the one side showing a strong, passionate and willful artist, setting colors, planes and contrasts with bold strokes which arrest the eye of the viewer and provoke his or her imagination; on the other side we are introduced to the sensitive, romantic side with soft impressions that are full of light and warm colors which melt into one another as if the artist was pouring her heart and feeling into the digital brush. Caroline studied painting at art college in Brighton, UK.
Originally hailing from London, Jeremy Sutton landed in Silicon Valley in 1988 after earning a Physics degree from Oxford University. Jeremy also studied drawing, printmaking and sculpture at the Ruskin School of Drawing and Fine Art in Oxford and lithography and life drawing at the Vrije Academie in the Netherlands. Introduced to the world of digital art in 1991, he became an early digital paint pioneer, writing six books, speaking and teaching internationally, founding the educational site PaintboxTV.com and performing live for clients world-wide, including Cirque du Soleil, the Smithsonian Institute and at the opening of the de Young Museum's Hockney show. His series of iPad paintings depicting iconic places relating to Silicon Valley, that are on display in this show, are close to Jeremy's heart as a former Physicist. Each place tells it's own unique story of this incredible crucible for technology and innovation that we know of as Silicon Valley, thus very fitting that the medium of these artworks is itself the product of Silicon Valley!
At the crucible of tech, finance, and invention, Art Ventures Gallery is dedicated to emerging international artists opens in the very center of Silicon Valley. ART VENTURES stokes the fires of creativity, providing visiting international artists with a residency in a Napa Valley studio and exhibition gallery space in Menlo Park.