Jeremy Sutton, Horszowski Trio at Kohl Mansion, 2017, iPad Pro, Apple Pencil, Procreate
If you're interested to learn how to draw and paint using this amazing combination of tools, I am teaching an "Inspiration From the Masters" iPad Art Workshop in San Francisco, April 28th to May 1st, 2017.
This drawing was created on February 12th, 2017, from life during a concert of the Horszowski Trio at the historic Kohl Mansion, part of the Music at Kohl Mansion program. The musicians featured in this drawing are, from left to right, Rieko Aizawa, piano; Jesse Mills, violin; and Raman Ramakrishnan, cello. They played works by composers Arthur Foote, Leonard Bernstein and Franz Schubert. I drew the whole time they were playing, roughly about 75 minutes. I started before they took to the stage and you'll notice, if you look at the replay video below carefully, that I first draw in the piano with no one sitting at it and then the musicians arrive and I start to draw them over the piano…
Replay video showing how the drawing progressed from start to finish.

The scene as I drew the musicians.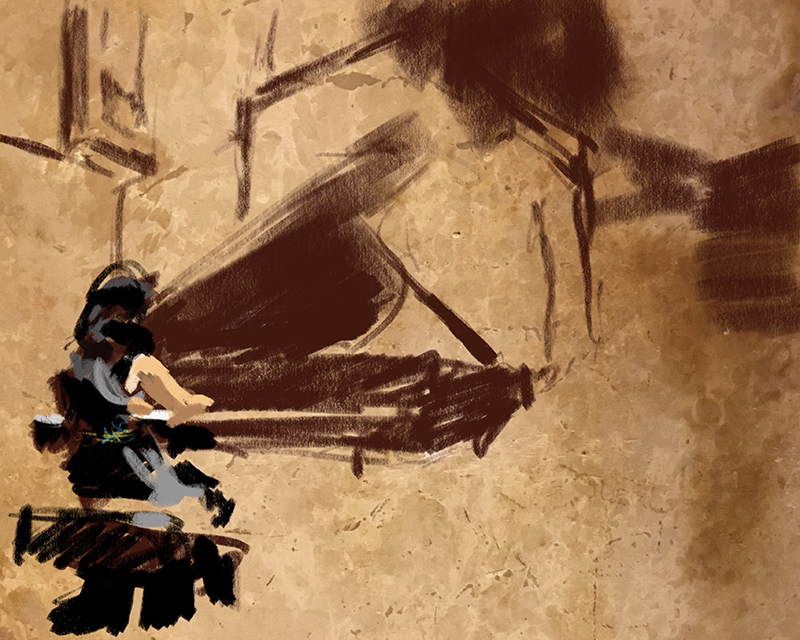 An early stage of the drawing.
Pigment inkjet prints on canvas of the digital iPad painting, each individually printed in the artist's studio and hand signed, stretched with gallery wrap, unframed, are available at these approximate dimensions:
24″ x 16″ $250
30″ x 20″ $500
40″ x 30″ $900
Other sizes available on request. To arrange a purchase please email Jeremy at jeremy@jeremysutton.com.